Have you bought a new house recently? It's incredibly exciting to move into your very own place, but it can also be a bit overwhelming. If you're struggling to decide what furniture you should buy for your new house, don't sweat it. We'll tell you everything you need to choose the right furniture so you can enjoy your new home to the fullest.
Sofa
In most homes, the living room is the center of the action. It's where everyone goes to gather, unwind, and recuperate. And if there's one piece of furniture that's essential for the success of your living room, it's a quality sofa.
You'll want to find a sofa that fits the size of your space and the number of people in your house. The good news is that sofas come in a wide variety of shapes and styles made to scale with any space. A large living room is perfect for a sectional sofa while a smaller living room might be better suited for a combination of a loveseat and armchair.
Dining Set
If you have a dining room in your new house, it's a good idea to furnish the space with a new dining set. After all, you want to show off your new house to friends and family, and your dining room will be a great backdrop for your housewarming party. You can choose matching furniture or mix and match dining chairs to your taste. You can even add a dining bench to accommodate more guests.
And your dining set doesn't just have to be for dining and entertaining. With the help of a quality tablecloth, you can double your dining table as a desk for any home office needs or even a place to do crafts with the kids.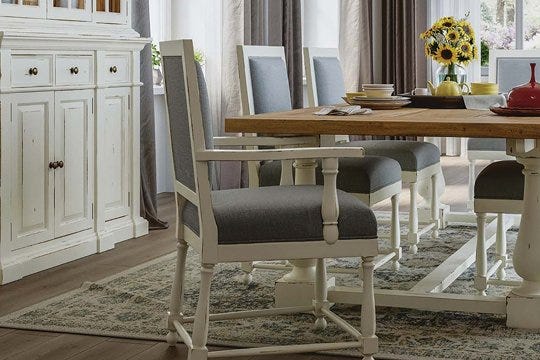 Home Office
While you can easily turn any table in your house into an improvised desk, nothing beats the professional feeling of your own home office. Start by finding an executive desk with a large surface and lots of storage space. Or go for a simple writing desk and add extra storage by incorporating bookshelves into the space.
Media Console
A living room needs a focal point to anchor the space. You can go a more traditional route and opt for a fireplace to serve as your focal point, but most modern living rooms are centered around the TV. And while some folks are investing time and energy into mounting their televisions directly to their living room wall, nothing beats a quality media console for all your entertainment needs.
A media console provides a sturdy platform for your TV, but also offers tons of storage space for all your everyday needs. A great media console is built with enough room to accommodate video game systems, sound equipment, and any other devices you rely on for your entertainment needs. It's also a great place to keep pet toys, magazines, or any other miscellaneous items.

Accent Tables
As you settle into your new house, you'll probably notice that you need some extra surfaces and storage space. Whether it's a nightstand in the bedroom or an end table in the living room, accent tables give you the assurance of added storage while making your house feel full and furnished. You can choose accent tables in a unique, bold style to stand out or look for tables that complement your current furniture. The great thing about accent tables is that they're generally easy to move and can be quickly relocated throughout the house until you find the right spot.
Area Rugs
If your new house has lots of hardwood floor space, you might want to add some area rugs to tie the room together. An area rug adds a huge dose of style to any room and also provides better traction compared to slippery hardwood. Rugs can be a great way to show your personality and are easy to change as your tastes evolve.
If you're searching for the perfect furniture for your new house, Watson's has just what you're looking for.
When you shop with us, you'll find an amazing selection and personalized service, along with the guaranteed lowest prices in the USA. We offer all the furniture and decor you need for any space in your home. So, if you want to furnish your new home, shop online or stop by your nearest Watson's location today.