Pool tables come available in a range of standard sizes, and determining the best fit for your home is key to ensuring playability, comfort, and enjoyment. While understanding the weight of a pool table is highly important for proper setup and installation, having a grasp on the size of a pool table is also crucial for the best rec room or home bar design.
Understanding Pool Table Sizes
First, let's take a look at regulations defining acceptable pool table sizes:
Standard Pool Table Sizes
Common regulation pool table sizes include:
7 Foot: The most popular option for recreational home use
8 Foot: Enables more skilled play
9 Foot: Regulation tournament size
Different Styles and their Corresponding Sizes
Pool tables come in a variety of styles, each with its own unique design elements. The main categories are wooden, metal, and industrial styles.
Wooden Pool Tables

: Wooden pool tables feature ornate woodwork, usually made from quality hardwoods like oak or mahogany. Traditional wooden tables have an elegant, classic design with carved legs and trim. Many buyers opt for wooden tables to match existing decor or for a traditional game room aesthetic. Custom options allow you to select specialized woods, stains, and finishes.

Metal Pool Tables

: Metal pool tables have a sleek, contemporary look with metal legs, rails, and accents. They often feature more neutral colors like black, gray, or silver. The modern style works well in contemporary homes and spaces with a sleek, urban feel. Metal tables are also very durable for high-traffic recreational areas.

Industrial Pool Tables

: Industrial pool tables have an urban, rustic vibe with metal legs and rugged details. Dark wood or colored finishes are typical. Industrial tables are often seen in pubs, bars, and game rooms. The bold industrial look pairs nicely with exposed brick walls and pendant lighting.
Along with unique sizing for different pool table styles, being familiar with the best materials used in pool tables can help you make the right decision for your space. The weight of wood, steel, or slate pool tables can have a big impact on the installation and setup process.
How Size Influences Pool Table Gameplay
The size of a pool table has a significant influence on the game experience and the types of shots possible. Some things to consider include:
Space Around Table: More room around the table enables players to easily walk around to reach shots from all sides and angles.
Cue Length: Longer pool tables may require a longer pool cue for comfortably reaching across the table for shots.
Shot Making: A larger playing surface provides the space for bank shots, kicks, and long ricochets off the rails. Smaller tables limit shot options.
Game Types: Regulation 9-foot tables are ideal for competitive games like tournaments. 7-foot bar boxes suit more casual play.
Evaluating your Space
Assessing room dimensions and layout ensures proper installation and enjoyable play. There are a few things that you should look out for, in particular.
Room Dimensions and Layout
When shopping for a pool table, the first thing you should do is take measurements of your available space. Consider both the length and width of the room, as well as any existing architectural elements or furniture. Be sure to leave enough space around the table for safe and easy movement during play.
Here are some recommended dimensions per table size:
7-foot table: Room Size: 9' x 14'. Space around the table: 60" width x 120" length
8-foot table: Room Size: 10' x 15'. Space around the table: 60" width x 150" length
9-foot table: Room Size: 13' x 18'. Space around the table: 84" width x 180" length
Elements Affecting Space – Furniture, Architectural Features
Take a look at any furniture, stairs, pillars, windows, or other architectural elements in your game room. Any of these features can limit available space and make maneuvering around a pool table difficult.
Consider the following:
Leave space around furniture like couches and chairs to pass between and take shots
Measure clearance from floor to ceiling for proper table height
Note any pillars, ceiling lights, or ceiling fans that could obstruct play
Check for windows, doors, and walkways that could get in the way during games
Also, be sure to consider other furnishings, ceiling heights, lighting fixtures, HVAC, and odd architectural elements that may limit table placement.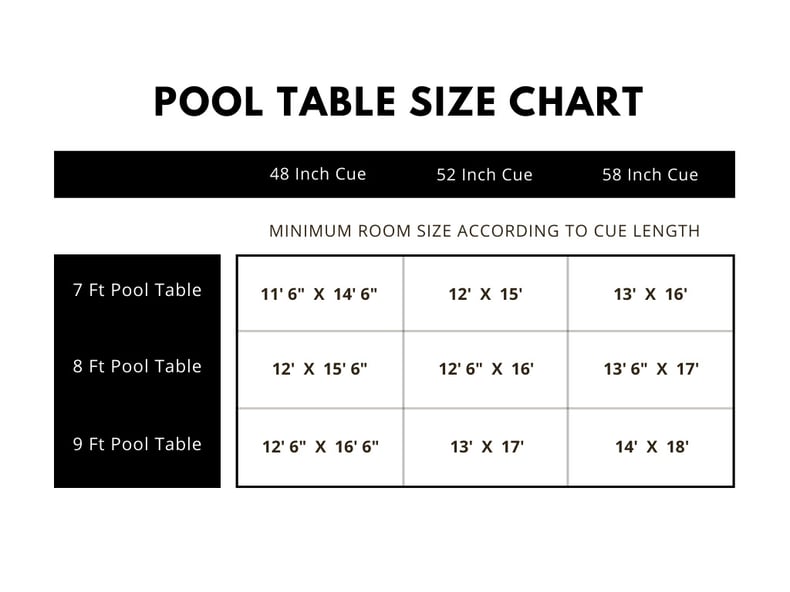 Additional Considerations
Here are some other factors that can influence what pool table size fits best in your space:
Number of players: Are you usually playing solo, with a partner, or with teams? More players need more space.
Skill level: Beginners often prefer smaller tables that are less challenging to master.
Table height: Standard height is around 31 inches, but lower ceilings may require a table with a reduced height playing surface.
Access route: Make sure there is a viable route with enough room to bring the table in and properly install it.
Player's Comfort and Space
Most importantly, consider the comfort of players. Some key questions to ask are:
Is there enough room to take shots from all sides and angles?
Can multiple players spread out comfortably around the table?
Does the table size suit your skill level and preferred game types?
Is there space to add stools or chairs so players can sit while others shoot?
Maximizing both playability and enjoyment ensures your pool table size suits the space and your needs.
Expert Tips on Selecting the Right Pool Table
If you're unsure about which size pool table to choose, go for the smaller option. Also, take into account any future requirements for additional furniture. It's recommended to have a professional confirm the compatibility between the room and the table. By carefully planning the space, you can ensure that your new pool table fits in well with its surroundings, allowing for convenient and enjoyable use throughout its lifetime.
Pool & Billiards Tables from Watson's
If you're interested in finding a new pool table, upgrade with our Rec Room selections.
When you shop with us, you'll find an amazing selection and personalized service, along with the guaranteed lowest prices in the USA. We have a wide variety of pool tables, air hockey tables, and arcade cabinets from the leading brands along with tons of accessories to make your rec room complete. Browse our extensive pool product range online or stop by your nearest Watson's location today.
FAQs
What's the standard size for a home pool table?
The most popular pool table size for recreational home use is 7 feet. It fits well into typical residential spaces while still allowing engaging gameplay for novice to intermediate skill levels.
What size room do you need for an 8-foot pool table?
An area approximately 10 feet wide by 15 feet long can usually fit an 8-foot pool table, allowing shooter access on all sides. But the larger the space, the more easily an 8-foot pool table will fit.
Is a 9-foot pool table too big for a home?
While challenging to accommodate, a 9-foot professional-sized table offers superior playing room for advanced skills. Dedicate space in basements or rec rooms if serious play is a priority.