When it comes to furniture, end tables are often overlooked; however, they are among the most useful furniture items that people can have.
End tables are small enough to fit almost anywhere. They are versatile in their use and can be a great way to bring the entire room together. With this in mind, there are a few points that people should keep in mind when it comes to using end tables.
Shop home decor now at the guaranteed lowest price in the USA.
The Magic Triangle
In the world of interior design, three is the magic number. It creates a magic sense of symmetry that helps make every decorating style work together.
While there are certain situations where other shapes or layouts are appropriate, those who are in doubt should always go with three.
That means lean toward using tables in triangular groupings with other items such as couches, chairs, beds, and coffee tables.
This magic number can also work for the items placed on top of end tables. Apply this rule to help bring your interior design or decorating scheme together.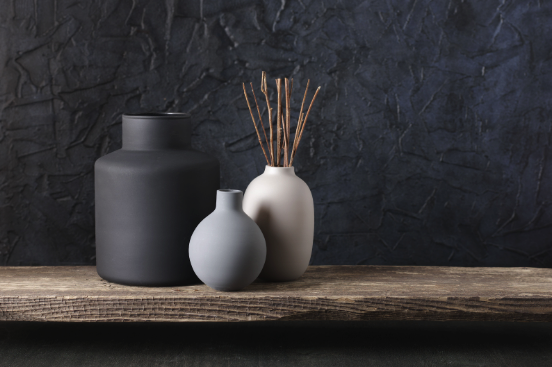 The Items Commonly Needed
When you're deciding what to stage or display on your end tables, ask yourself: What do you usually want within reach?
This might include coasters, lamps, books, and even a glasses case. Starting here will help you create a practical and functional space.
Then, once you've added the essentials to the table, the rest of the space can be used for decor or personal style.
Don't have any items you love? Don't force it. There's a simplicity to the open space on an end table as well.
Add Nature to the Mix
We love to add a bit of nature into the decorating scheme.
Depending on the size of your tables, you could add a potted plant or a vase with flowers. It can add color, texture and life to to your table.
Books Add Height
When staging items on an end table, we like to stagger them in height. That's why designers love to add a book to the table.
It can be a great conversation starter — and subtly adds style, color, and varying heights.
This is another great way to make an end table appear a bit unique. Think about adding comic books, a fiction novel, or even an encyclopedia.
Shop End Tables
Watson's now carries everything you need for your living room -- from sofas to coffee tables, end tables and home decor.
That includes a selection of end tables from some of the top brands on the market including Adella, Alder Grove, Adobe, and Adonis.
Every item is at the lowest price in the USA, guaranteed.
Schedule a free consultation with one of our designers, who can help you bring your space to life.