From holidays and homework to celebrations and creative concoctions, the dining room can be a room of daily transformation. But that doesn't mean your style needs to sacrifice for your everyday needs.
Selecting the best furniture for your dining room that fits your style and your purposes is easy at Watson's.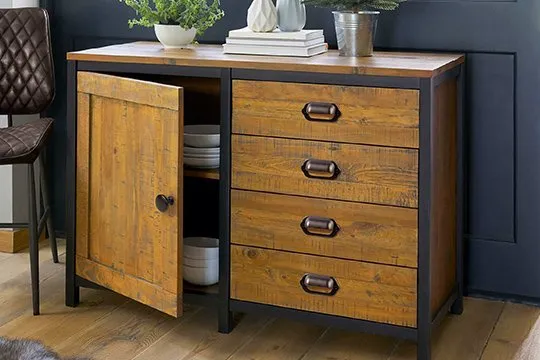 But before you get too far ahead of selecting your new dining room furniture, you'll want to make sure to check out the following five considerations to assure your pieces are a perfect fit for your room, style, and budget.
#1: Define Your Space
There's nothing worse than falling in love with the perfect dining room table, chairs, or set and then realizing it doesn't fit your space.
Your first step when shopping for dining room furniture is determining the space available and the space you want to use. Are you looking for only a table and chairs, or will you also want a china hutch, side board or buffet, and other decor and storage in your dining room?
Evaluate your space and needs first to determine the sizes you can comfortably fit.
#2: Functionality
Once you've assessed your space, you next need to determine the overall functionality you want for your dining room furniture.
Apart from your typical "dining," usage, your dining room table can quickly become desks, game tables, meeting spaces, and more.
Consider all the functions you want your dining room table (and other furniture in the room) to serve so you can select the best size and style to fit your needs.
Some simple questions to ask include:
How many people do I want to fit?
Will this be used for more than dining?
What height do I want the table to be at?
What type of seating do I want? (Chairs, benches, bar stools, etc.)
Design Tip: An extendable table is a great option for those every-once-in-awhile events and holidays where you need that extra room, but don't want it all year round.
#3: Size and Shape
Once you've determined your available space and functionality, it's time to look at your actual sizes and shapes. What would best fit your space? Rectangle, square, oval or circle? You also want to consider height.
Circle tables are great for smaller spaces while rectangles can seat more and offer the option to use chairs or bench seating. Oval tables are easier to seat more individuals and add spaces and can add warmth to your dining room with softer edges.
Round tables may also be more suitable for families with young children, avoiding run-ins with sharp edges and corners.
The shape of your table may also be determined by your overall style for the room.
#4: Design
Are you looking for a modern or contemporary look or going for a more traditional or classic feel? Do you want your home decor to flow seamlessly from room to room or are you a little more eclectic and design each room separately?
When thinking about your design consider possible future design changes and updates as well. Sticking to a more neutral palette for your dining room furniture can afford you easier decor updates by changing out rugs, curtains, tabletop decor, and wall hangings.
But a dining room is also a great place to insert some statement pieces, such as a multi-toned or contemporary mixed material table or mixed and matched chairs.
#5: Seating
While seating may not seem like an important factor to consider, it can be essential to the flow (and comfort) of your dining room.
When considering your seating, you not only want to take into account the number of seats you want available for everyday use (and special occasions), but also the material used.
For families with young children, consider an easy to clean material. For a warmer feeling, consider upholstery. Watson's has a wide selection of dining chairs in a variety of materials to fit your design and comfort needs.
Design Tip: Benches are great for rectangular tables to increase seating space and also reduce excess bulk of arm rests. Depending on the size of your table and bench, you can also easily tuck them under the table to increase walkthrough space.
If you're ready to begin your dining room transformation or just want to update a few items, contact Watson's today and talk with one of our design experts and check out our buying guide to help you through the process!
And make sure to hurry as manufacturing and delivery are taking longer than normal due to, well, you know! So if you're looking to get that dated dining room spruced up, contact us or come in to your nearest showroom today!