When spring rolls in, it's time to unpack your outdoor patio furniture from storage or shop for brand-new pieces. Outdoor patio furniture is a worthwhile investment, and you'll want to make sure it can withstand the elements of every season.
The experts at Watson's have created a guide to what you should look for in outdoor patio furniture to make sure that your next purchase can withstand pounding rain, howling winds, and a beating sun.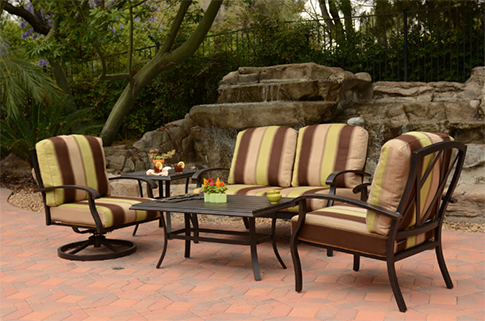 Types of Materials
Our selection of patio-lasting patio furniture comes in a wide variety of materials to choose from. Determining which materials are the best depends on personal preferences like location and style. Since there are many characteristics to look for in lasting patio furniture, let's walk through various furniture materials' multiple pros and cons.
Most of our outdoor patio furniture selection is made from one or more of the following materials:
Wood, including cedar and teak
Synthetics, like plastic and resin wicker
Metals, such as aluminum and steel
Synthetic fabrics
Some furniture is made from concrete, which has grown more in popularity amongst outdoor furniture.
Teak
As the most popular choice of material for outdoor furniture, teak has superior all-weather capabilities to handle mother nature's worst conditions.
Teak can withstand some of the harshest environments and has an unparalleled aesthetic appeal using warm colors and finishes. Teak is high in oil and resin content, making the material impermeable to water and nearly resistant to insect attacks. Oils in teak furniture protect the wood from dry rot, making each piece strong and long-lasting year-round.
TIP: New teak wood furniture is golden-honey in color. When untreated, teal naturally ages into a patina grey color.
Aging does not necessarily affect the wood's strength. It might not be the color you're looking for, though. To ensure the original color doesn't fade, add a teak sealant. Teak sealant usually lasts up to a full year before it needs to be reapplied.
Plastic and Synthetic Resin
Another lasting outdoor furniture material is a synthetic resin -- lightweight, extremely durable, and low in maintenance.
Typical synthetic reason furniture is woven in a wicker styler to maintain classic outdoor looks. Unlike natural wicker, synthetic resin doesn't fade when exposed to sunlight and can be stored outdoors.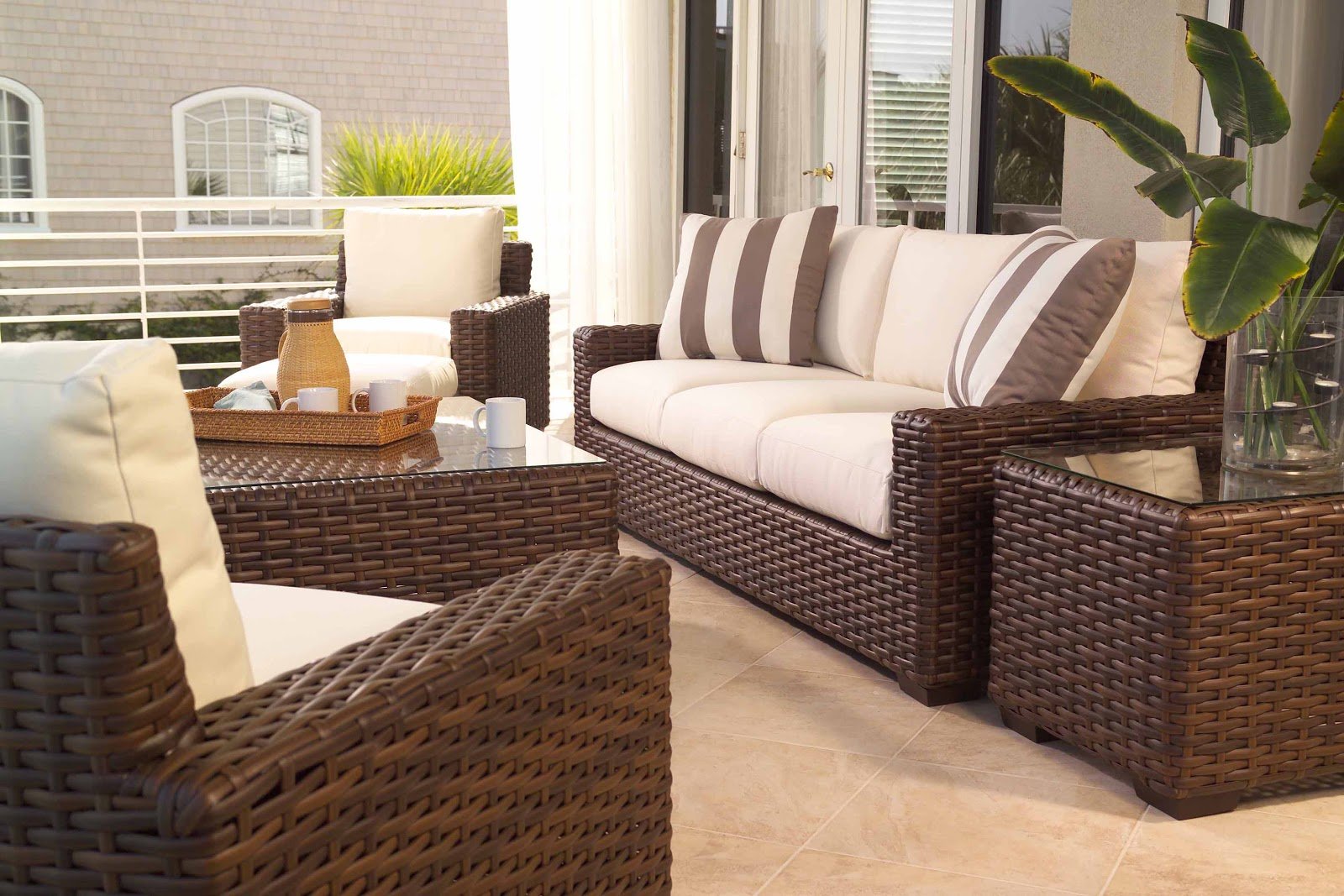 Several synthetic materials are used to make resin wickers, such as PVC, nylon, and polyethylene. Make sure you get a high-density polyethylene (HDPE) piece of furniture. The thermoplastic used in HDPE furniture is of a higher grade, higher strength, durability, and resistance to heat.
Molded plastics, including high-grade polyethylene and polypropylene, offer sculptural and color options. They also provide a great mix of materials, making them lightweight and easy to move around. Some plastics are hollowed to include color-changing LEDs for added night aesthetics.
Metal
Although wrought iron was a common material used for outdoor furniture in the past, the heavy-weight material is prone to rust, making it an uncommon choice for furniture material in modern outdoor areas. The most common metals used for outdoor furniture today are aluminum and steel.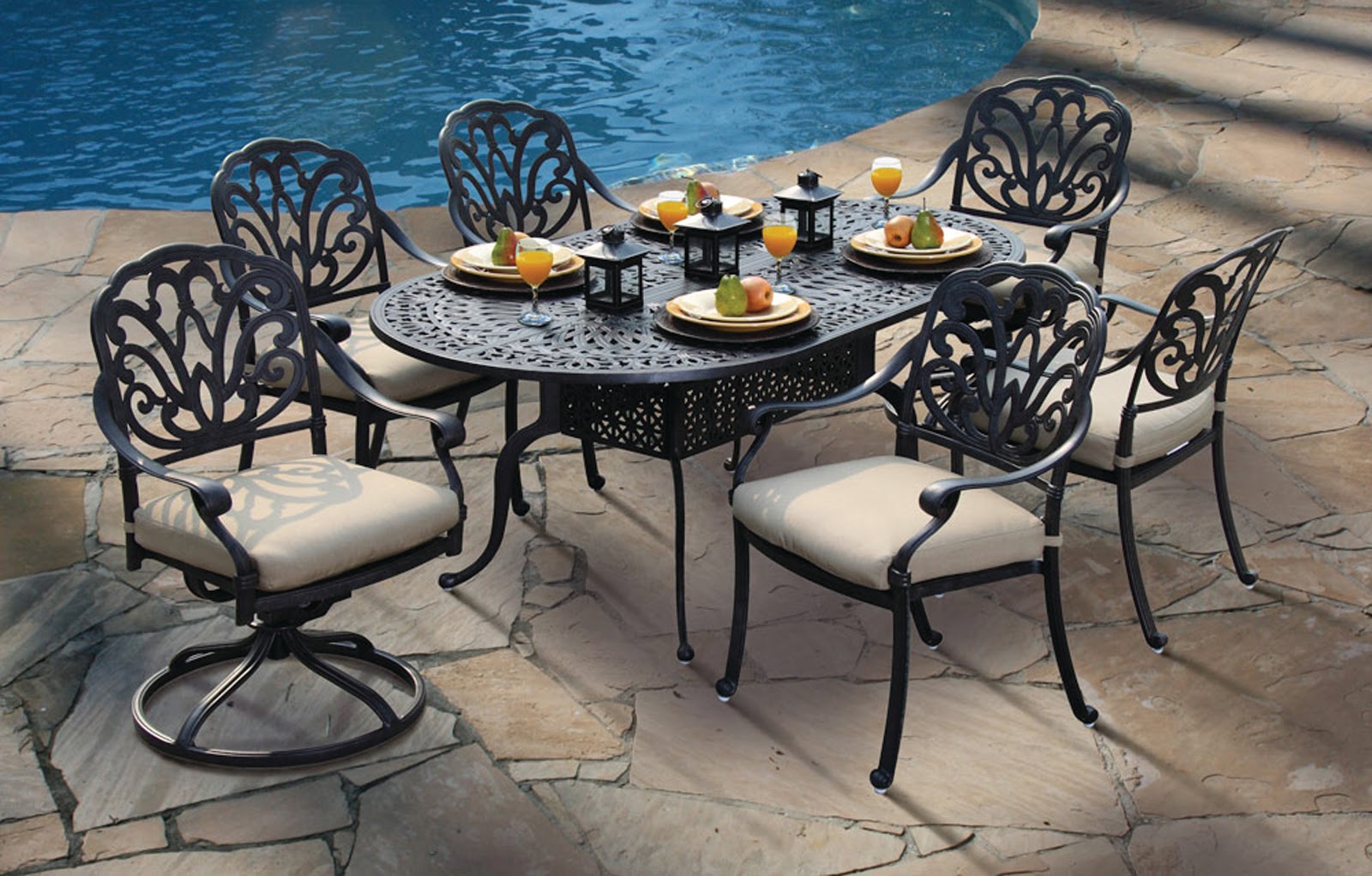 Aluminum
Aluminum is extremely durable and can be cast into nearly any design shape. The material is lightweight and durable, making it perfect as an outdoor furniture choice.
Aluminum is incredibly low maintenance and does not rust like iron or steel when exposed to salty climates.
The material also does not dry out or crack like old wooden furniture after prolonged exposure to the sun. Be aware: If you're setting up in an area that is prone to high winds, aluminum furniture is not ideal.
Steel
Although steel is the most robust metal for outdoor furniture, it is also heavy and comes at a hefty price.
The bad news: Steel furniture is not simple to move around. The good news: It's not simple to move -- making it a great option if you have heavy winds.
Stainless steel is one of the best options for outdoor furniture since regular steel corrodes against rust quickly when exposed to elements and nature.
Galvanized steel is coated in zinc to protect from corrosion, helping your outdoor furniture withstand exposure to water. Stainless steel is covered with chromium, which is resistant to rust and can be exposed to saltwater.
Stainless steel outdoor furniture is perfect for backyard pools or homes near a beach.
TIP: Since steel outdoor furniture may corrode with chlorine exposure, make sure it has a powder coat for additional protection.
Fabrics
Upholstered furniture is one of the most comfortable options for patio pieces. Fabrics offer the ultimate lounging experience and look as though they belong indoors. Outdoor fabrics are made from water-resistant synthetics like polyester, acrylic, and vinyl. The fabric weaving is breathable and resistant to fade, moisture, and other outdoor damage.
Weatherproof outdoor fabric is heavily dependent on the weather resistance of its materials. Foam and similar materials are made to speed up water evaporation and eliminate mold or mildew. Although it is perfect for outdoor weather, fabric furniture should not be left unprotected during the winter months.
Concrete
Concrete is a trending material in modern furniture and outdoor design. The material is durable and robust while remaining sleek and aesthetically pleasing. However, concrete is heavy and easily susceptible to staining. Liquids can soak into the surface, carrying stains throughout the concrete piece. Acidic substances can even dissolve cement paste, so avoid summer beverages with lemon juice if you choose concrete options.
While some furniture pieces use natural concrete, some pieces use both concrete and fiberglass to make lighter furniture that protects surfaces against stains.
Lasting Patio Furniture at Watson's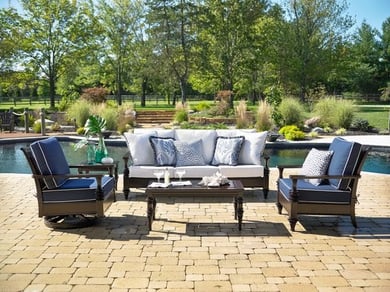 Take the time to consider all of the available outdoor patio furniture options at Watson's.
If your backyard design requires furniture made from wood, choose pieces made from teak.
If you choose a sleek and modern look, go for aluminum or steel to enhance and accentuate the space.
If you need something with an industrial feel, concrete patio furniture might be what you're looking for.
Although there is no "perfect" furniture material, these are a few strong contenders. What matters is what works for you and your outdoor space.
Still don't know where to start? Contact a Watson's design expert to help you find the perfect outdoor furniture for your style and your budget.