They say the kitchen is the heart of the home and around the kitchen or dining room table is where meals are shared, stories are told, and memories are made.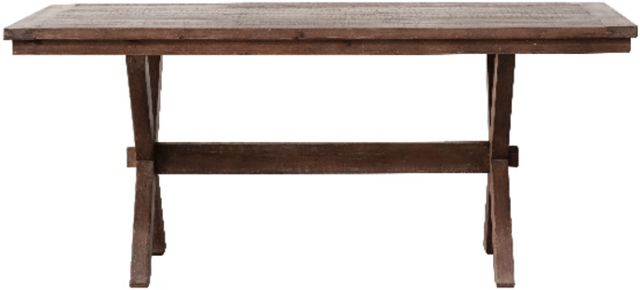 Throughout this past year, we've had more opportunities to use our kitchen and dining room tables, and sometimes for multiple purposes.
Whether you're in want of an update or in need of more function and durability for a new kitchen or dining room table, consider these five trends when shopping and selecting.
Keep it Casual
There's no denying we've probably used our kitchen or dining rooms tables for more than eating and celebrations. They've become desks, game tables, meeting rooms, and more, especially over this past year.
Multifunctional furniture has become a necessity for some and dining room and kitchen tables are no exception. A popular trend is removing formality and keeping tables casual, simple, and multifunctional.
Not only does this create a more calming space in its simplicity, but it also allows for easy decor updates when you want to change it up. Add a pop of color with a nice centerpiece or overhead with a fun lighting fixture.
In addition to the tables, seating has become more casual with focus on comfort over decor, especially if your room table transforms into your office desk after dinner.
Watson's offers a variety of affordable and decor-driven kitchen and dining rooms tables. Check out this great farmhouse style rectangular table that would be a perfect multifunctional table and fit any decor!
The More the Merrier
Not a new trend, but one that's proven a classic is a round table. Round tables are a great for small spaces or for adding a more cosy, intimate feel to your kitchen or dining room. Unlike rectangular or square tables, round tables are easier to fit into most spaces and allow for more seating.
Create instant intimacy with family and guests with a round table where you can easily see each person without that awkward bend forward or backwards.
Low Maintenance
Let's be honest. There's a lot of mess than can quickly be made on a table. From kids art projects and culinary concoctions to accidental coffee or wine spill.
A trend for tables that also adds some elegance and a bit of glamour is marble. Not only is marble non-porous to avoid those stains or tough-to-clean surfaces, but marble comes in a variety of colors to match any decor.
There's also no maintenance on marble, unlike other tops such as wood that needs polishing. Add elegance with no maintenance to your kitchen or dining room table with a marble.
Nothing but Natural
Another top table trend that has proven timeliness is going natural. Wood tables are not only beautiful and bring some of the outdoors in, but wood tables can fit with any decor with the right stain or type of wood.
A wood table is also a great addition to a kitchen table. Consider a butcher block table top, which can become an extension of your countertops or used for additional prep space.
Check out this wood top table with an extension from Watson's that would add additional space and a more natural feel to your kitchen.
Mix and Match
While not a table trend, but complementary to tables, is mixing and matching chairs and benches for seating.
Consider a bench for one side of your rectangular table and chairs for the other to be able to create more flow. This also allows more seating and benches could easily slide under the table when not in use for more walkthrough space.
Some people like to have a variety of different chairs for a more eclectic look as well as for personal comfort preferences.
In addition to calling our team of experts to help you find the perfect kitchen or dining room table, ask yourself these five questions when shopping:
How often will I be using this table?

Throughout the whole day or just at meal times?
What will I be using this table for?

Are you using this just for dining at or for your desk and other activities?
How many people do I need to fit everyday? What about for gatherings and holidays?

For instance, do you want a table with an extension or leaf for additional seating?
What style will be fit my room?

This will help you determine the material you want.
What shape is best for my room and my uses?

Round is great for conversation, games and more, while traditional is more common for formal dining.
Want to take a deeper dive into these questions? Check out our buying guide!
Stop in or call Watson's today to find the perfect dining or kitchen table to share meals, memories, and moments at.