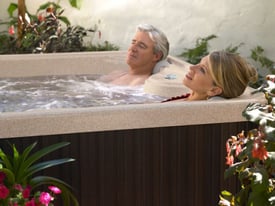 Whether you're an athlete with sore muscles, your back aches from hours in the garden or you have chronic arthritis pain, a hot tub could be your best friend.
Spas have a wide range of health benefits, both physical and mental — improved circulation, deeper sleep, lowered blood pressure and stress relief.
Perhaps the most commonly cited health benefit of a hot tub? Relief from muscles aches and pains.
A 20-minute soak at the beginning and end of each day can help lessen pain and stiffness, particularly for lower back pain.
Read on to learn why.
Shopping for a new hot tub or spa? Watson's has the nation's largest selection with all the top brands, and every spa is at the guaranteed lowest price in the USA. Shop spas now.
How soaking in a hot tub helps with back pain
There are 3 scientific reasons why a hot tub is good for lower back pain:
Heat: The water in your spa will raise your body temperature. This enhances circulation, improves blood flow and promotes overall relaxation. As those muscles relax, the pain lessens.

Buoyancy:

When you immerse your body up to your neck in the water, your body weight is reduced by an estimated 90 percent. This takes the pressure off bones, joints and muscles — including those associated with the lower back.

Massage: Certain spas have powerful jets that are designed specifically to massage major muscle groups. Hydromassage is the perfect way to knead knots and tension out of muscles.
When it comes to jets and hydromassage, not all hot tubs or jets are created equal. If relieving back pain is one of your goals, then look for a hot tub designed for superior massage and hydrotherapy.
Contact us now, and our team can help you find a spa with the best massage jets.
Stretches for back pain relief
in your hot tub
For extra relief from the aches and pains, try stretching in the tub.
Start by soaking in the hot tub or spa for at least 10 minutes first, to let your body warm up and the muscles relax.
Then try a few stretches, like:
Seated torso twist:

Sit up straight. Then twist toward one side, holding onto the side of your hot tub for 3 deep breaths (or as long as you're comfortable).




Side stretch

: Sit up straight. Raise your arms overhead, then clasp your hands together (still over your head). Gentle pull your arms to one side, feeling a nice stretch down your side. Hold for 20 to 30 seconds. Alternate sides.




Baby stretch:

Stand in the middle of the hot tub with your feet flag on the floor. Hold on to the edge of your spa and push your hips back, keeping your back flat. Hold for 10 to 20 seconds.
Thinking about a new hot tub or spa?
We have one of the nation's largest selections with all the top brands, including Catalina Spas, Hotspring Spas, Bullfrog and more. Every spa is at the guaranteed lowest price in the USA.
Contact our team now, and we'll help you find the best spa for your budget, your home and your needs.