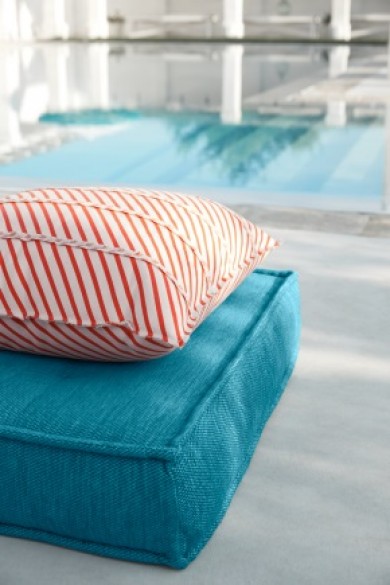 Outdoor furniture is an investment — and sometimes it takes a beating.
Whether it's the long days of sunshine, or a spill from a glass of red wine or the ketchup from the family BBQ, you need durable furniture.
Not only do performance fabrics increase the longevity of your furniture, but they also give you ease-of-mind through everyday challenges.
Here are 3 key reasons we recommend Sunbrella fabric for your outdoor furnishings, from cushions to awnings:
(1) UV and Fade Resistant
For most fabrics, the dye is applied as the last step in the manufacturing process, meaning its color only penetrates the very top layer of the fabric.
This makes it more susceptible to fading as a result of water spills, sun exposure, high use, and other daily challenges.
Sunbrella fibers are dyed and then woven into fabric, from the beginning of the manufacturing process — making Sunbrella fabrics resistant to fading and the degrading effects of sunlight.
(2) Mold & Mildew Resistant
All Sunbrella fabrics are engineered to resist mold and mildew.
Mildew grows on dirt, pollen and other organic matter, so simple routine cleaning will prevent mildew from forming.
If your furniture is exposed to dirt and debris and mold or mildew do occur, then all Sunbrella fabrics can be easily and safely cleaned.
(3) Easy to Clean
With Sunbrella, your performance fabric furniture can be cleaned repeatedly without compromising its color or durability, even with heavy duty supplies like bleach.
If you're nervous about using bleach, or if routine cleaning is needed, then a mild soap will usually work, too:
1. Brush off loose dirt.
2. Spray on a cleaning solution of water and mild soap.
3. Use a soft bristle brush to clean.
4. Allow cleaning solution to soak into the fabric.
5. Rinse thoroughly until all soap residue is removed.
6. Air dry.
Most of our outdoor furniture can be ordered with Sunbrella fabric.
Book a free design consultation with one of our experts to choose your color and style.