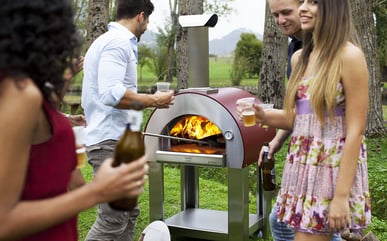 Pizza ovens are a pizza lover's dream.
Just imagine the light crunch of the crust, the ooey gooey cheese and the hint of smoky flavor. (Is your mouth watering yet?)
Pizza ovens don't stop at cooking pizza.
With temperatures up to 800 degrees, a wood-fired pizza oven can cook just about anything — and fast.
Your crusts will end up crispier. Your meats will stay moist. Your desserts will be mouth-watering.
Still debating if a pizza oven is worth it? Just check out a few of the food ideas below.
And if you decide to shop for pizza ovens, Watson's has everything you need for outdoor cooking, from grills to grill accessories and spices. The selection includes wood-fired pizza ovens, all at the guaranteed lowest price in the USA. Our line from Alfa is easy to use and made entirely in Italy, too.
What you can cook in a pizza oven

You can cook almost anything in a wood-fired pizza oven.
Thanks to their high heat, they're a versatile cooking appliance that can handle almost anything you would normally bake, roast, BBQ or grill.
Here are just a few ideas:
Roasted vegetables: Pick up any fresh vegetables (we like peppers, onions or portobello mushrooms). Coat the veggies in oil, sprinkle some salt and toss onto a basic drip pan or baking sheet.
Slow cooked meats: Think hamburgers, steak, brats, chicken, salmon or other fish. Prep your meat, then place it on an elevated grilling rack over the coals and close the door.
Fresh made bread: Prep your favorite recipe (or buy a pre-made one from the store). Place it in the hot oven, and get ready for fresh- baked bread that can't be beat. Sourdough, ciabatta and rolls are especially tasty.
Lasagna and other pastas: No surprise here: The Italian-made pizza oven is great for pasta, too. Just place your pasta in a cast iron or oven-safe baking dish.
Roasted potatoes: The trick is to parboil your potatoes for about 10 minutes in salted water. Then add any spices or seasonings and toss into a pan inside the pizza oven. You'll end up with the perfect crisp on the outside but soft on the inside.
Flatbreads: Keep it simple with a little butter, olive oil, or a flavorful herb-packed butter, or go all out and top it like a pizza.
Cinnamon rolls: As you prep the dough, let a cast-iron skillet warm up for a few minutes inside the oven. Take it out and melt a Tablespoon of butter in the warmed skillet. Add your dough to the skillet, then bake until the cinnamon rolls are puffed up and golden perfection.
Grilled bananas: Yes, desserts work, too! Here's one you might already have the ingredients for: Scoop 2 Tablespoons each of butter and honey into a pan. Let that melt in the grill first. Then slice bananas the long way, brush with the melted butter and grill until they start to turn golden.
For extra fun: Drizzle with salted caramel and serve with a scoop of vanilla ice cream.
Shop our selection of wood-fired pizza ovens, all at the guaranteed lowest price in the USA.
Questions? Our experts are ready to help. Contact us now.