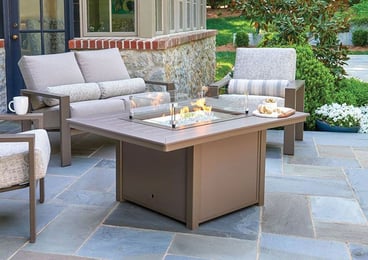 Just because you have a small backyard doesn't mean you have to give up style or even seating.
The designers at Watson's have you covered.
Below are 10 tips on how to add design style and function to maximize your outdoor space.
Watson's has one of the nation's largest supplies of outdoor furniture and accessories, all at the guaranteed lowest price in the USA. Shop patio furniture, fire pits, or outdoor accessories now.
Mix and match colors
The best way to make a small space feel bigger is to start with color.
Clean white, light grey and a rich blue hue can all make a small space feel bigger.
Make sure to add a pop of color or two, or an eye-catching pattern, into your outdoor space. It adds dimension or layers, which breaks up the space visually and gives the eye more to look at — creating a sense of space.
Add alternative seating
One of the biggest challenges of a small space: Less room to gather outside.
Extra seat cushions, outdoor-friendly poufs, ottomans and garden stools are all simple ways to add extra seating without taking up too much space.
If you do have the space for outdoor chairs, opt for something that has a slimmer profile. That will carry less visual weight, which is best for smaller spaces.
Invest in multi-purpose furniture
Make the most of the space you do have with 2-for-1 furniture.
Benches and ottomans can easily pull double duty with hidden storage.
The St. Kitts collection (pictured) is a popular due to its dual purpose without sacrificing style. Grab a cold drink from the ice chest on top, and disguise your trash can inside.
Plank & Hide makes a line of patented functional fire pits. Simply slide the lid closed, and you have an instant table. Open or closed, you have a place to set your drink.
This counter height fire pit from Hanamint easily doubles as an outdoor dining table.
Add art or decor to the walls
It's the accessories and decor that really make a smaller space feel bigger.
Adding decor to the walls, like hanging an outdoor-friendly piece or art or mirror, is a simple way to draw the eye up and make a big visual impact.
Shop outdoor accents, including outdoor wall art, here.
Add throw blankets (or Turkish Towels)
Throw blankets can instantly make any space feel cozy and comfy. They can also be expensive and aren't necessarily made to hold up outside.
Your answer: Turkish towels.
These popular towels are known for their ultra soft fabric and their versatility, looking beautiful as a decorative throw, a light blanket or a beach wrap. With plenty of colors and patterns, it's also an easy way to add style.
Bonus: If you have a pool or hot tub, Turkish towels are highly absorbent and dry quickly, so they can be carried right on over to the water.
Shop Turkish towels from Bazaar Anatolia at the guaranteed lowest price in the USA.
Create shade with the right patio umbrella
Make sure you have a comfortable spot to escape the sun and relax. An umbrella is highly functional and adds personality to your space, too.
Treasure Garden umbrellas fold down with a simple push of a button, so you can easily close it when it's not in use.
Don't have room for an umbrella pole and base? Opt for a cantilever umbrella, also known as an offset umbrella.
Unlike traditional umbrellas, cantilever patio umbrellas do not have a center pole and can be adjusted 360 degrees, to tilt for optimal shade at any time of day.
Add creative lighting
Outdoor lighting now comes in more versatile (and more stylish) options than ever. Choose from floor lamps, table lamps, string lights and even hanging pendent lights, all made for outside.
Hang string lights above your seating area.The subtle light will bring the eye up, creating a bigger sense of space. It will also create a beautiful ambiance.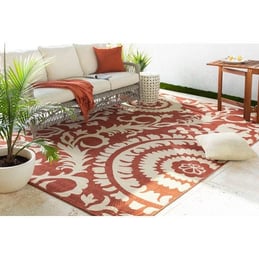 Add an outdoor rug
It will anchor the space, making it a warm and inviting place.
To make your space feel bigger, opt for a larger rug that extends beyond your furniture.
Shop outdoor area rugs now at the guaranteed lowest price in the USA.
Add an accent color or statement piece
Pick one or two statement colors that you can carry throughout your space — cushions, throw pillows, area rug or even wall art.
A pop of color or an eye-catching pattern is the fastest way to add personality and break up the space visually, to make it feel bigger.


Create a patio (or expand your patio) with pavers
Don't have a budget to pour a concrete patio or build a deck? No problem! You can create a patio -- or make your current one bigger -- with pavers. That gives you more space to set up outdoor seating or a fire pit with chairs.
You can use concrete stain and outdoor paint to add extra design and break up the space visually. Use simple gravel or even polished beach pebbles to fill in the space between pavers.
Watson's has one of the nation's largest supplies of outdoor furniture and accessories, all at the guaranteed lowest price in the USA.
Shop patio furniture, fire pits, or outdoor accessories now.