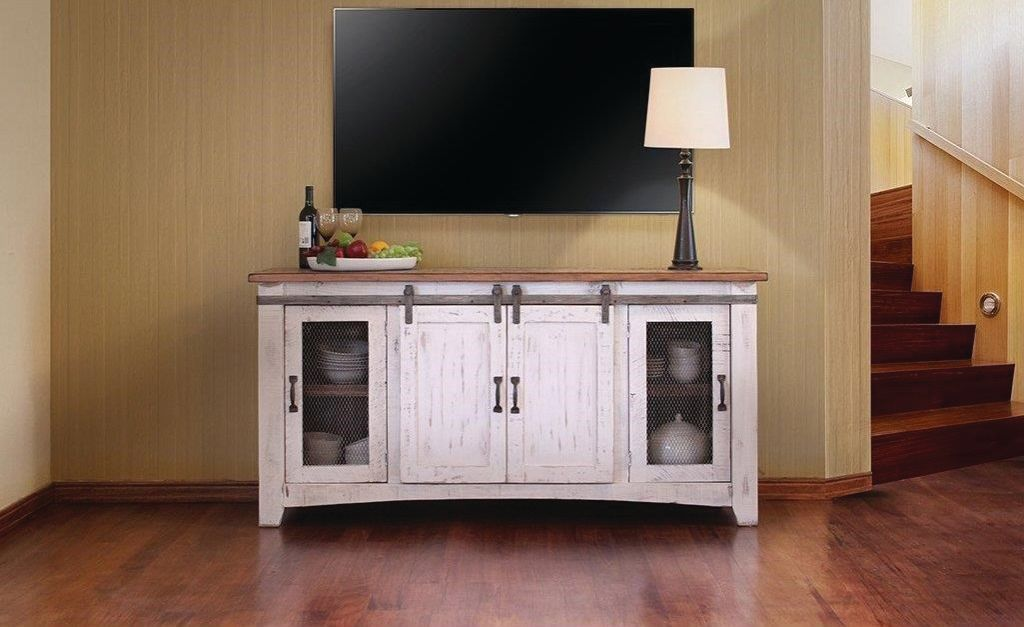 TV stand. Entertainment center. Media console.
Whatever you call it, it's often the focal point of your living room.
Just like any home furniture, media consoles come in all kinds of design styles -- contemporary, farmhouse, modern, mid-century modern, rustic and more.
And you can find all sizes, shapes and styles: from small and low profile to large with plenty of storage.
Search all media consoles here, at the guaranteed lowest price in the USA.
Here are 5 steps to help you narrow down your choices and find the best media console for you:
Determine a comfortable height.
Whether you plan to place your TV on top or mount the TV above, start by considering the height of your TV. That will help you decide how tall of a media console you want.
As a general rule of thumb, the center of your screen should be positioned around the eye level.
Here's a trick that works for most cases: Measure the distance from the floor to the average sightline of the view from your sofa or chair. Divide it in half.
That gives you an estimate for the perfect height for your TV stand.
Choose the ideal width of your media console.
Measure the width of your TV. Add at least 10 to 12 inches, so you have a few inches of space on each side of the TV.
That breathing room will be better for both aesthetic and safety reasons.
If you plan to put decorative items onto the media console, you may want to add a few more inches than that so you don't block the TV screen.
Choose a color or material.
Your TV stand should be consistent with your design aesthetic. So keep with a similar color and design style as the rest of the space.
If your home is more contemporary, look for white, neutrals or light gray.
If your style is more traditional, look for richly stained woods, thicker frames or elegant details.
Choose how much storage you want.
Some TV stands are designed to be just that — a stand for the TV. If you have a small space or prefer a minimalist look, keep it simple.
Do you have DVDs, photos or decorative items to display? Consider open shelving.
Do you have digital players gaming consoles you want to hide or cords you want to tuck away from a toddler? Look for a console with doors that close or even lock.
Look for features to make it as functional as possible.
Your TV stand should be as functional as it is stylish.
Do you have lots of cords to hide? Make sure it has a cord management system.
Have toddlers and need your door to be secure? Consider doors that have locks.
Want extra features, like a fireplace in your console? That exists, too.
Search all media consoles here, at the guaranteed lowest price in the USA.