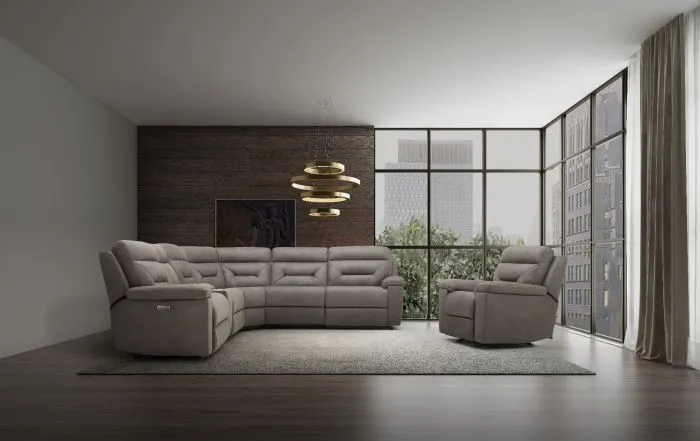 Sectionals are trending well in 2021, thanks to the mix of comfort, style and function.
We carry a wealth of styles, from traditional L-shaped couches to spacious leather sectional sofas with power reclining seats or a chaise lounge for added space.
Shop all sectionals now at the guaranteed lowest price in the USA.
With so many options, how do you decide which is the best sectional sofa for your living space?
Here are 5 factors that will help you narrow down the choices to find the perfect fit:
Your budget
Sectionals can range anywhere from $1,500 to $20,000. The brand name, size of the sectional and quality of the materials will all factor in.
At Watson's, we guarantee the lowest price in the USA on every sectional we sell.
Before you begin shopping, decide what you are willing and able to spend.
Design style
Your home is a reflection of your style — and few pieces make as big of a statement as a sectional sofa.
The right sectional should coordinate with your existing design style or set the tone for a new style.
We carry all design styles: contemporary, modern, traditional and more.
Leather vs. fabric sectionals
Next, we recommend you narrow down to leather vs. fabric. Both can be durable and stylish, so this is largely personal taste.
Fabric tends to be softer and warmer, making it more comfortable than leather. It won't scratch like leather, so it tends to handle kids or pets better. If you choose a high-performance fabric, it will be easy to clean, too.
Leather can lend a certain sophistication and style that fabric cannot. It tends to be better for allergies, because it doesn't harbor dust mites or pet dander like fabric can. Leather is very easy to clean, with a simple dust or rub. It can last for decades, if cared for properly.
Motion options
Power reclining sectionals are sought after for their mix of comfort and style.
Sectionals can include a variety of power features, including:
Dual power
Power headrest
Power recline
Picture sinking into your sectional and putting your feet up with the touch of a button. Or if you're watching a movie marathon, maybe you want to tilt the headrest for the ultimate comfort.
Color
Most people prefer a neutral color that will stand the test of time — like white, black, brown, gray or cream — and then will add color with accent pillows or throw blankets.
Our manufacturing partners carry dozens — if not hundreds — of fabric or leather option, though.
Have a particular color, shade or pattern in mind? In most cases, our staff can help you place a custom order at no extra fee.
Need more help finding the best sectional sofa for you? Contact us now.
Shop all sectionals now at the guaranteed lowest price in the USA.