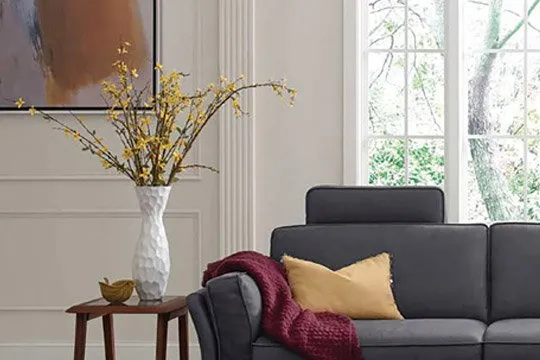 Your living room is one of the most used areas in your house (and likely even more so over the past year).
We believe the living room makes the biggest impression in your home and truly reflects your personal or family style.
Whether you're looking for a complete living room makeover or just upgrading a few pieces to change it up, Watson's has everything you need to make your living room reflect you, in both style and comfort.
Consider your living room a canvas and check out these inspiring living room furniture designs for your next makeover or update!
Go Bold
A fun and playful trend for living rooms to add that little "extra" is adding a bold-colored piece of furniture. A bright pop of color from a sofa, loveseat, ottoman, or even in your accent tables can create an inviting and impactful impression. Consider adding some patterns to your throw pillows and guests will be sure to comment on your eclectic and fun style!
Watson's offers a variety of sofas and sectionals in both vibrant and neutral colors to fit your style.
The Old and the New
A modern rustic look has become a new trend blending both vintage decor and furniture with new. And finding that balance and best of both doesn't have to be difficult. Leather is a great fabric for this design look and adding some pops of rustic in your decor will pull it all together easily.
Our Jenessa Leather Sofa is a great fit for a rustic look with modern comfort.
Multi-Tasking Furniture
Regardless of the size of your living room, multifunctional furniture is a trend that is here to stay. Not only does multifunctional furniture reduce the amount of furniture in a room, it supports various uses when needed.
A great multifunctional piece we love to incorporate into room designs are ottomans. They can function as a table, storage for seasonal items, and extra seating when needed.
Secure a Sectional
Sectionals are coming back! As we have spent more time at home, it's become more noticeable the comfort and size of our sofas. No longer are the days for the occasional sit and visit. Our living rooms are becoming our sanctuary, our theaters, and game night hot spots.
The best part about sectionals is you don't have to sacrifice style for comfort. Our variety of sectionals ranging from stain-free fabrics to soft leather are sure to match your decor and lifestyle needs.
Au Natural
Another trend that will stand the test of time is going neutral and natural. From fabrics and paint color to accents and decor, combining neutral colors like beige, off-whites, tans with leather and soft-colored fabrics is a sure winner in our design book. Add in some wood accent tables, media stands, and you've got a cosy, traditional, never out-of-style living room.
Plus, it's easy to update later with pops of color on throw pillows, blankets, and decor if you're looking for a change.
Go Green
This fun trend can literally bring your living room to life! Adding greenery with real or faux house plants can bring both color and fun to your living room, with a personal flare depending on the type of plants you enjoy!
A fun way to decorate and showcase your green thumb is using a book shelf or book case for display, layering your plants and adding texture and color year-round!
Our Lancaster Collection Bookshelf would be a great piece to display your various flora.
Chuck the Carpet
Is your carpet looking a little worn or are you looking for a simple way to add more dimension to your living room? Consider an area rug. Not only can an area rug tie the whole room together with a fun or unique design, it also adds warmth without worrying about looking worn out.
Design tip: If using an area rug, make sure it sits underneath the front of the sofa and not too close to the wall. This will ensure it ties your furniture pieces together without the look of it overcrowding and looking like carpet.
From bright and bold to neutral or nautical, Watson's selection of living room furniture can cover you from floor to ceiling to help you stay comfortable and stylish at an affordable price.
Thinking of changing up your living room? Contact us today for expert advice or hurry in and order today as sofa manufacturing is taking longer than usual with manufacturing challenges.
Watson's has everything you need to make your living room your favorite room. From sofas, sectionals, recliners, loveseats and ottomans, to rugs, bookshelves, tables, and more, we answer all your design questions and ensure you select the best fabrics and pieces to fit your lifestyle.
Shop our variety of living room furniture today and contact us to learn more!