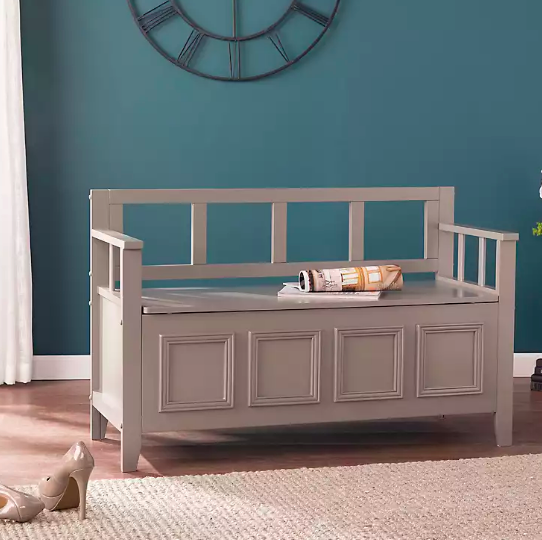 Life's best moments can get messy and a little cluttered.
With the right storage furniture, you can instantly create extra storage for all those little items that need a home — without sacrificing space or style.
Now you can easily hide those extra throw blankets inside an ottoman in your living room or hide your trash can inside an outdoor cabinet that doubles as an ice cooler.
Shop all storage furniture for indoors or outdoors here, all at the guaranteed lowest price in the USA.
Here are the 7 most common types of storage furniture:
Indoor Storage
Storage Benches
It's common to simply dump all of your items on the floor once you walk into the front door after a long day. Shoes, jackets and bags all have a non-specific spot right next to the front door.
For a simple and convenient option, consider a special storage bench for the entrance.
Ottoman
Living rooms are a great place to keep stylish and secret storage units, beginning with the ottoman.
Ottomans are not just for putting your feet up after a long day. Most of them come with additional storage functionality, making them a great addition to your living room.
Because of this, ottomans can store extra blankets, pillows, books, games and more.
With certain ottomans, like the Hess storage ottoman by Rowe, you can even customize the fabric color and finishes.
Storage Coffee Tables
Never substitute style for practicality, especially when there are other great pieces of furniture that can provide functionality while still looking stylish.

Adding a coffee table to your living room can complement the room's style and other furniture. Some coffee tables can even act like ottomans by adding extra hiding space without letting go of any style and functionality.
End Tables
Find a diverse array for end tables at Watson's. Our selection includes end tables that are both stylish and functional by providing plenty of storage space to hide coasters, remotes and more. The addition of an end table can also transform your home into a perfect reflection of who you are.
Outdoor Storage

Finding storage for your outdoor deck or patio is a bit less of a hassle than finding stylish storage furniture that matches your indoor living spaces. However, Watson's has a wide selection of outdoor furniture that can serve as both stylish and functional.
Deck Boxes
Deck boxes are just as stylish as they are functional. These storage boxes add value to your patio environment by enhancing the overall patio experience, while maximizing the overall storage space you can keep outdoors.
Outdoor cushions, pillows, blankets and more can be stored in a deck box without hassle.
Coolers
Outdoor patio coolers can provide a stylish storage solution for keeping drinks and entertaining guests.
Outdoor coolers are constructed with durable material, allowing for year-round use and easy handling. Keep your everyday essentials close at hand while maintaining easy portability with an outdoor cooler from Watson's.
Trash Chests
Keep unsightly garbage safely out of view with a trash chest or garbage container. This piece is decorative, functional and convenient all at once. The trash chests from Watson's feature designs that look great on any deck or patio that complements your outdoor furniture.
Whatever storage furniture you need, Watson's has you covered. Browse our selection of indoor and outdoor storage furniture at a Watson's near you.
Shop all storage furniture for indoors or outdoors here, all at the guaranteed lowest price in the USA.