Above ground pools are an affordable way for your family to have all the fun this summer — and at Watson's, we believe you can have fun and style, too.
So we're here to help with design and landscaping ideas for your above ground pool.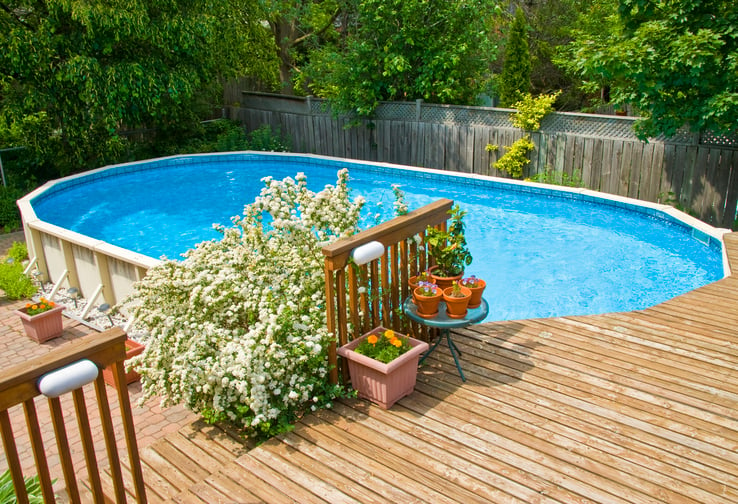 With just a little creativity, you can make your above ground pool part of a gorgeous backyard oasis or even make your pool appear to be in-ground.
Watson's has in-stock above ground pools and everything you need for care and maintenance — all at the guaranteed lowest price in the USA. Shop pools now, or shop chemicals, games and toys here.
Add landscaping
A lush landscape is the most popular way to add beauty to your backyard space.
Most people opt for gravel instead of mulch, because mulch can hold the moisture from any splashes. Then plant a line of shrubs or bushes around the pool.
The best plant or bush to plant by a pool will depend on where you live and your growing zone. Just make sure to pick a hardy bush that could withstand some the splashes from a pool with chemicals.
Set out planters
You could also plant plants or flowers in a large pot or planter that you place around the pool. Outdoor planters come in all sizes, shapes and colors so you can really make it your own.
Planters are especially great for anyone in a colder climate, because you easily bring them inside for the winter.
Line with gravel or river rock
Edging around your pool with inexpensive river rock or pea gravel is a quick, no-maintenance option. (This works around hot tubs, too.)
Start by using a rake to clear out any grass or weeds from around the pool. Then place whatever rock you like best.
River rock comes in a variety of different shapes, sizes and colors. Pick one that will fit with your design style and complement your pool liner.
Add lighting
Line the edge of your pool with lighting. Opt for warm lighting to set a beautiful scene at night, and add a bit of security as well.
We like solar landscape lights, which are inexpensive. Lanterns, candles and outdoor torches all work, too. Shop outdoor lighting here.
Wrap your pool in wood or stone
Panel the exterior walls of your pool with wood to add instant luxury and style to your above ground pool.
We've seen people do this as a DIY project with wooden pallets, and others have tried it with stacked stone or reed.
(Just make sure your pool can withstand the weight, and always refer to your manufacturer's guide to make sure it doesn't void any warranty.)
Create a walking path
A simple walkway is a functional and highly versatile way to add a little something to your outdoor living space. The most popular option is to create a path with gravel or river rock, then drop pavers of your choice.
Build it into a deck
If you haven't installed your pool yet, this is a great one: Incorporate your above ground pool into a deck. It will provide an in-ground pool vibe, without the cost.
This works with round, oval and rectangular pools.
Bonus: The deck provides an anti-slip surface when wet swimmers exit the pool.
Still shopping for an above ground pool? Our team of experts can help you find in-stock pool options for any size or budget. Contact us now.
Already have your pool? Watson's carries everything you need for your pool, from care to fun, all at th guaranteed lowest price in the USA. Shop pool supplies now.