Enjoy this summer with some of our hot and trending accessories! Perfect for attending & hosting a large gathering or just taking it easy at home! Here are our top eight essential accessories!
1. Chelsea Beverage Server: Our Chelsea Beverage Server is excellent for making sure every individual stays hydrated in the sun! This wrought iron beverage server is both functional and decorative. Grab a glass and enjoy a drink of your choice!
2. Big Joe-Outdoor Lumin: Looking for casual and comfortable seating for you and your guests? The Lumin is designed to perform in the natural elements in the pool or on the patio. These seats have mesh bottoms so the drying process is fast and efficient.
3. Yeti Rambler Colster: The Rambler Colster makes your canned beverages all-terrain and virtually shatter- or puncture-proof. Your drink will stay cold for so long you won't even believe it!
4. Tiki Toss Ring Game: Grab a partner and start a game of Tiki Toss! The board is quality crafted from 100% bamboo and fun for all ages! The user friendliness of the game makes it very addictive yet relaxing. It takes just 5 minutes to set it up indoors or outside and then the competition begins!
5. Q Squared Platters: Our Q Squared small platters are perfect for charcuterie boards, veggie boards, fruit boards, and more! The Ruffle collection is perfect for year-round, indoor and outdoor dining and promises to help make entertaining easy and fun.
6. Hopper Flip 18: Looking for something that will keep track of your drinks while keeping them cold? The Hopper Flip 18 is perfect for storing drinks during get-togethers. Its wide-mouth opening makes for easy loading and access to your food and drinks. Also, its extreme insulation will make sure your ice doesn't melt!
7. Nara Ice Box: You can't have drinks without an ice bucket! The wood Nara Ice Bucket has a curved shape and flared opening that complements any table or bar. With a plastic insert to hold the ice, the lid fits securely to keep its contents cool. The ice bucket comes with a shovel-shaped scoop as well!
8. Chill Lite Triple Pack: Light up your backyard to ensure your night doesn't come to an end! Our LED Pool, Patio, Backyard, and Home lighting System adds the perfect touch to your home! Waterproof light is an attractive and indestructible diffuser for adding light in or around the pool and backyard.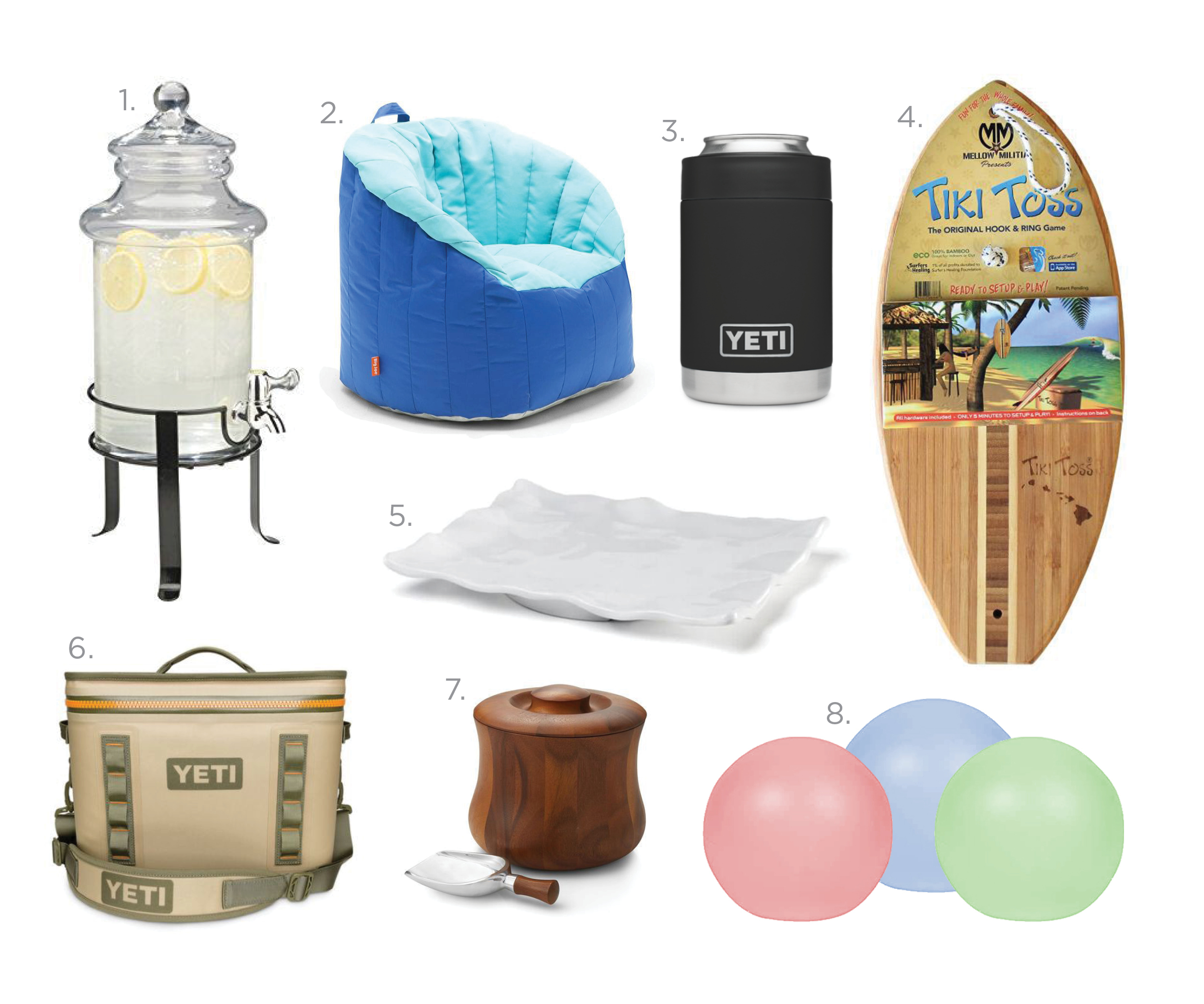 1 / Chelsea Beverage Server 2 / Big Joe-Outdoor Lumin 3 / Yeti Rambler Colster 4 / Tiki Toss Ring Game 5 / Q Squared Platters 6 / Hopper Flip 18 7 / Nara Ice Box 8 / Chill Lite Triple Pack