Home theaters are a great way to connect, relax, and enjoy a variety of entertainment together.
Whether you currently have a home theater, are in the process of creating one, or have a multifunctional room that acts as your home theater (such as a living room), the most important part of your room (apart from the size of your TV) is your seating.
When it comes to home theater seating, it doesn't have to be a one-size fits all. Watson's carries about every kind of seating imaginable that can add comfort, convenience, and style to any home theater room.
Check out the below alternatives for your home theater seating.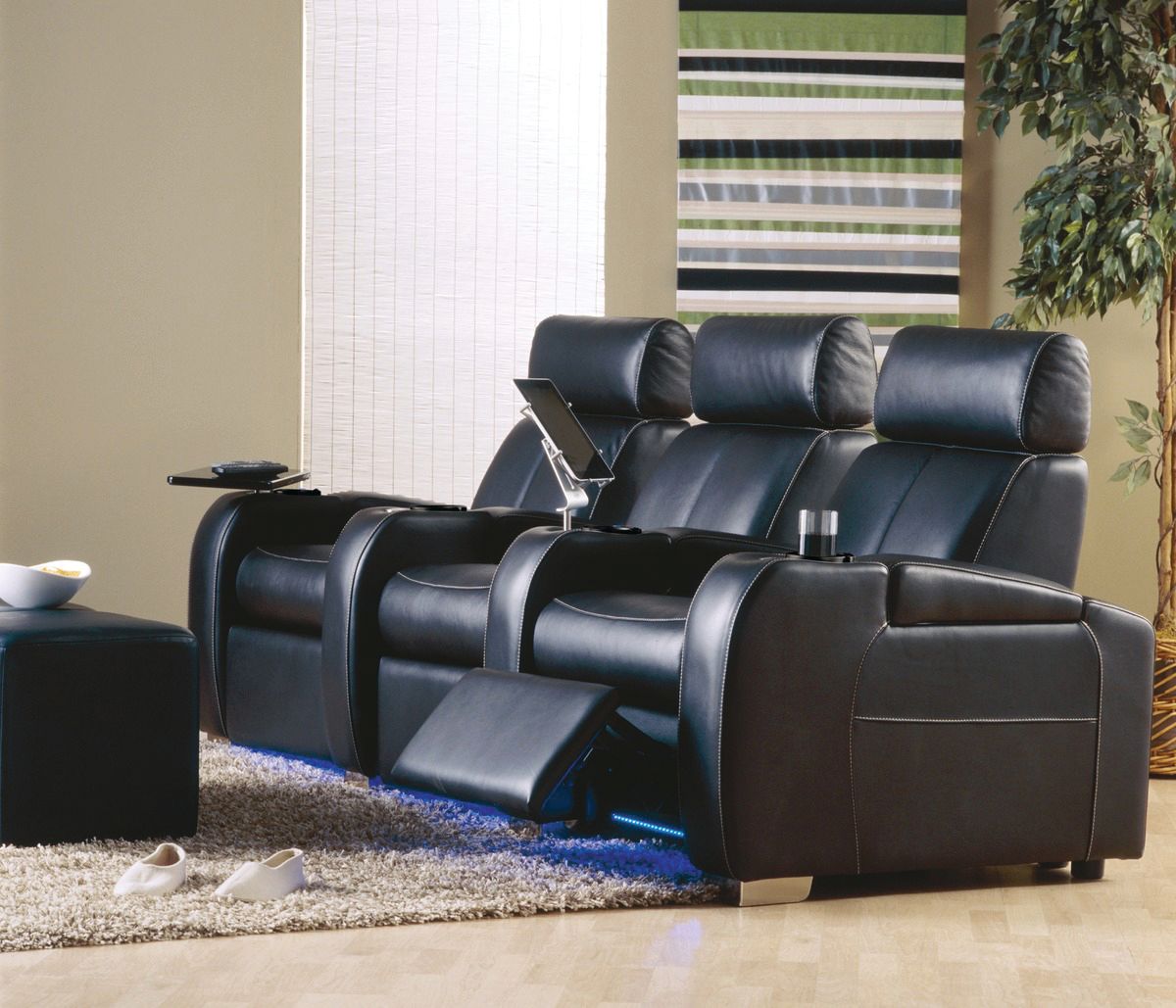 Motion Furniture
When you're looking for the ultimate theater experience with the most comfort, you're likely looking for motion furniture. This has become so popular, even actual movie theaters are using motion furniture.
It's the perfect way to unwind and relax. Reclining allows you to kick up your feet and enjoy your movie in the most comfortable way possible. If you're looking for a little more, you could even consider adding in a massage motion chair to fully alleviate your stresses.
Motion furniture offers both style and function, allowing you to complement any home theater room decor.
Home Theater
This isn't necessarily your "alternative," but it may be if you're looking to upgrade from a couch or sofa to something that has a little more convenience.
Home theater seating is a pretty obvious choice for your theater room and creates the full experience with cup holders, small tables, LED accent lighting, and more to ensure you're ready for the whole movie.
Similar to motion furniture, home theater seating offers reclining with all the smaller amenities so you feel like you're really in the theater.
Watson's carries both 3 and 4-seat home theater seating options in a variety of colors to match any decor and budget. Don't see what you like from our in-stock. We also offer custom home theater seating, allowing you to select the configuration, fabric and color, comfort features, and more!
Ottomans
An often overlooked seating option are ottomans. There are many reasons these make great alternative seating options for home theaters. First, kids love them! They are easy to move and can easily become a foot rest or table if needed.
Ottomans are also a great way to add additional seating when needed for guests without cluttering the room with too much or too big of furniture. They work great in smaller spaces and can be used for decor or in other rooms when not in use in your home theater.
You can find an ottoman in just about any style, fabric, and color you desire to match your existing decor or to add something new to your space.
Loveseats
What better way to cozy up for a romantic movie than in a loveseat! This alternative home theater seating is great for couples, for kids, and for smaller spaces where a full couch or home theater seating may not fit. And it can include many of the same benefits as our home theater seating options, including center consoles for storage, cupholders for refreshments, and USB charing ports.
Loveseats create an intimate and cozy experience and can easily be moved and rearranged. Consider two loveseats instead of one couch for ample seating. They also work great for those using a living room as a home theater space, allowing arrangement for both conversation and convenient viewing.
Sectionals
If you have a large family or tend to have large gatherings for game days, movie marathons, or video gaming, a sectional may be the alternative seating route to go. Sectionals are great for all ages and can accommodate many people or just a few to sprawl out. Similar to our home theater and loveseat options, our sectionals also offer storage consoles, cupholders, and other amenities to make your theater experience comfortable and convenient.
Add an ottoman instead of a coffee table and you're set for a cozy retreat in your home theater room.
Sectionals also come in a variety of fabrics, sizes, colors, and functions to find your perfect fit. Many even offer hidden compartments for cup holders, storage, and more.
Theater Bars & Seating
If you're looking for more seating and table space that doesn't take up a lot of room, a theater bar may be just what you're looking for. Place behind a sofa or couch for additional seating as well as space for concessions and refreshments!
Regardless of the size, shape, or design of your home theater room, Watson's has seating that will complement, provide comfort, and enhance your overall experience! Our design experts are waiting to help you find the perfect seating options for your budget and wants. Contact us today to get started!