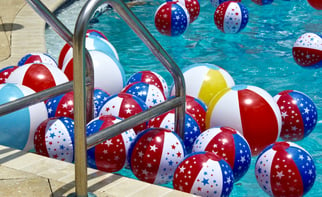 Few things say Fourth of July like a BBQ and a backyard pool party.
Just add a splash of red, white and blue to your pool and show off your patriotic pride all summer!
Below, you'll find some of our most popular American flag-themed inflatable pool floats.
All are $30 or less and the guaranteed lowest price in the USA.
Watson's has the largest selection of above ground pools and everything you need for your pool. Shop pool chemicals now, or shop pool toys, games and floats now.
Giant waving American flag float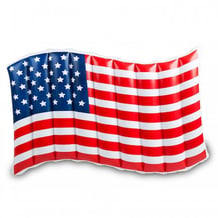 Keep yourself afloat with the good ol' Stars n' Stripes.
This giant American flag pool float from BigMouth Inc. will make a bold statement (it's 5 feet wide) without hogging up the entire pool.
Shop the giant waving American flat float now.
Americana Double Lounger Float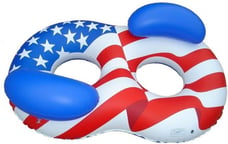 This 2-person pool float lets you lounge side-by-side with your favorite patriot.
Measuring in at 74" x 46", you two will have plenty of room to stretch out, chat and relax all summer long.
Shop the Americana double lounger float now.
Americana Flag Beach Ball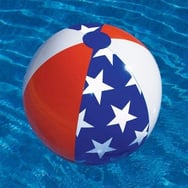 This American flag beach ball is a must have for a Fourth of July pool party.
Play a simple game of toss or "keep it up" with this classic pool accessory.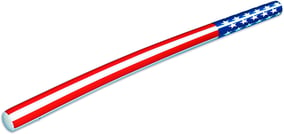 Put a patriotic spin on the classic pool noodle.
Bonus: It's made by Swimline, which is a family-owned business just like Watson's.
Shop the American Doodle here.
Americana Star Island Pool Float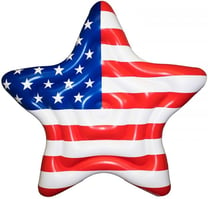 Show off your red, white and blue pride with this flag-inspired pool float.
Measuring in at 65" x 69", it comfortably seats one adult.
Shop this American Flag star swimming pool raft now.
Make a splash with this classic look -- an inflatable pool tube with the American flag design.
It's 36" across, so roomy enough for you to float with comfort and pride.
Shop the American pool ring float now.
Giant Bald Eagle Inflatable Pool Ring Float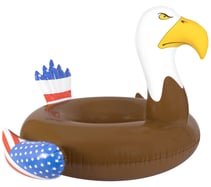 Can it get more American than this? It's a giant bald eagle with American flag wings!
This ring float measure 36 inches tall and 48 inches long.
Shop the inflatable bald eagle float now.
Shop more inflatable pool floats and lounges now, all at the guaranteed lowest price in the USA.