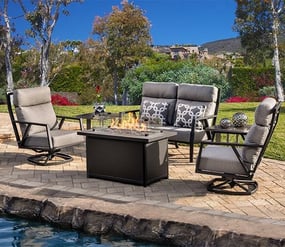 We believe your backyard should be an extension of your home, an outdoor living space where life's best moments can happen.
So make your backyard a space you and your family love to be in.
Whether you need inspiration for a quick mid-summer refresh, or thinking about a backyard makeover, we've got you covered.
Watson's has one of the nation's largest selections of outdoor furniture and accessories, all at the guaranteed lowest price in the USA. Shop patio furniture, fire pits, or outdoor accessories now.
Add outdoor lighting
Lighting is arguably the fastest, most affordable way to bring your outdoor space to life.
Wrap strands around any pillars, or hang them between trees. Line a path with solar lights, or hang a beautiful outdoor pendant for a chic outdoor dining space.
Shop outdoor lighting here, from lanterns to outdoor table lamps.
Bring in your style with outdoor accents or decor
Similarly, accents and decor are the fastest way to add a sense of personal style to your backyard.
Add a pop of color to your outdoor space with a garden stool from Surya. It's outdoor safe, so you can leave it outside. It also comes in handy in the garden when you need something to sit or stand on.
Shop outdoor accents & decor here, at the guaranteed lowest price in the USA.
Pick up an indoor-outdoor planter
This outdoor-friendly planter from Surya adds instant style and function to your outdoor space.
At only 12" tall, it can also double as a centerpiece to show off the flowers from your garden.
Plant in a garden box (new or upcycled)
Plant flowers or plants for the pure joy of it, or build your own edible garden so you can have fresh fruits, veggies and herbs all summer long.
Raised garden boxes are more popular than ever for setting up beautiful flowers or an edible garden.
If you like Farmhouse design style, this alternative will be up your alley: Create your own planter box with a little creativity. Tin cans, tea pots, or old plastic bottles can all be repurposed for planters. Find a vintage sink or wheelbarrow at a flea market? Turn it into your own plant box.
Add a fire pit
There's no better way to enjoy a beautiful summer evening with friends than gathering around a fire pit.
Kick back for a late night conversation, or make s'mores with the family right at home.
Shop fire pits now, as low as $799 (prices subject to change).
Make a pathway in the garden
Walk ways are an easy, affordable and DIY addition to your backyard.
Create your path out of brick, stones or concrete pavers, then fill in the gaps with mulch, gravel or even polished beach pebbles.
On a stricter budget than that? Just stick with the loose materials, creating your pathway out of decomposed granite, gravel or wood chips.
Add an outdoor rug
A beautiful rug can add instant design style to any outdoor space and make your patio a cozy space feel like an outdoor living room.
If you're opting for a large outdoor rug, it should cover most of your patio.
Shop outdoor rugs now at the guaranteed lowest price in the USA.
Hang outdoor art
While not quite landscaping, this is still a fun and personal way to add color and style to your outdoor space.
Leftbank Art has been creating hand-painted art right here in the USA for more than 40 years. It's designed with outdoor living in mind, so it's water and UV resistant.
Need more backyard inspiration?
Our friendly team is happy to help to you find the exact items that fit your space, your design style and your budget. In participating locations, we have designers who offer consultations at no charge. Contact us here.
Watson's has one of the nation's largest supplies of outdoor furniture and accessories. There are options for all budgets and design styles, all at the guaranteed lowest price in the USA.
Shop patio furniture, fire pits, or outdoor accessories now.