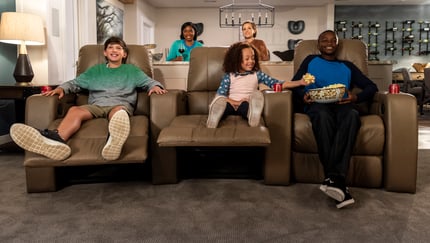 Summer is made for jumping into the pool and playing with neighbors until the sun comes down.
Sometimes, though, you need an escape from the summer heat or something to do on a rainy day.
There's no better back-up plan than heading indoors to your best comfy movie-viewing seat and enjoying a family-friendly favorite.
You know we have all the fun — so we've rounded up a list of the best classic summer movies for families.
We picked ones that are solid entertainment for adults and kids alike. (That's why there are no cartoons!)
We also defined "family friendly" as movies that are rated PG or PG-13. So no rated R movies made the cut.
Now all you have to do is claim your spot, have a seat, and check out these favorites to enjoy on a hot (or cool!) summer night.
14 family-friendly movies for summer
Adventureland (2009): This coming-of-age flick takes us back to the summer of 1987 at a run-down amusement park.
E.T. (1982): It wouldn't be a summer movie list without Steven Spielberg's classic, E.T.

Ferris Bueller's Day Off (1986): This teen comedy classic with Matthew Broderick trying to cut school will be a hit with any age.

Field of Dreams (1989): If you have any baseball lovers in your family, this is a must watch.
The Goonies (1985): This adventure comedy is a cult classic. If you have kids interested in treasure map hunts or pirates, this one would be perfect.
Grease (1979): Have some summer lovin' with this musical. How many parents will remember the hand jive?
Home Alone (1990): Did you know this classic starring Macaulay Culkin shattered all the records for the highest grossing live-action comedies at the time?
Karate Kid (1984): This was considered Hollywood's biggest sleeper hit of the year and would be perfect timing to watch, given the success of "Cobra Kai" on Netflix, which is based on the four original Karate Kid films
A League of Their Own (1992): If you have an athletes or budding feminist at home, this one will be a hit. (After, you and the kids can read about the real-life All-American Girls Professional Baseball League here.)
Little Miss Sunshine (2006): This dysfunctional family comedy will have both the adults and kids cheering on 7-year-old Olive as the family road trips to her beauty pageant.
My Girl (1991): Throw it back to the summer of 1972 and 11-year-old Vada Sultenfuss.
The Parent Trap (1961 or 1998): Most of us prefer the original starring Hayley Mills as twin sisters, but your kids might like the remake with Lindsay Lohan.
The Rookie (2002): This sports classic is also based on the a true story. So after you watch Dennis Quaid starring as Jim Morris, read about the real-life rookie here.
The Sandlot (1993): Travel back to the summer of 1962. If your kids know what it's like to be the new kid on the blog or one of the local misfits banding together, they'll love this classic.
Whatever movie you choose, nothing beats a movie night at home – especially in full recline mode
Did you know Watson's has a wide selection of home theater furniture sets, all at the guaranteed lowest price in the USA? Relax in comfort and style. Shop home theater furniture here.