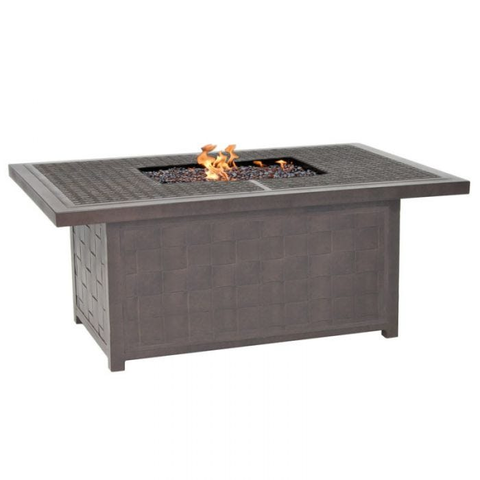 As school begins and fall fast approaches, family time can quickly seem to diminish between kids' schedules, homework time, and activities.
But we have a secret trick to creating more family time this fall . . . a fire pit from Watson's!
A fire pit is the perfect addition to any outdoor space, creating ambience, warmth, and most importantly, a place to gather the family around.
Check out these family-focused fire pit activities that will be sure to bring everyone together and create lasting memories all year round!
#1: Eat Al Fresco
Change up dinner time and take your meal outdoors around the fire pit for different scenery and fresh air. Dinner isn't complete without some dessert. Bring out the marshmallows and enjoy a s'mores dessert around the fire pit that's sure to satisfy the whole family.
Consider adding a cooking grate to your fire pit and make dinner outdoors as well!
#2: Movie Night
No need to go to the theaters! Grab a small projector, some popcorn and blankets, and watch your favorite movies together under the stars by the warmth of the fire pit.
#3: Game Night
Bring the fun outdoors and around the fire pit. From card games to board games and even charades, taking family game night outdoors is a sure way to make some fun memories and start some family traditions surrounded by warmth and light.
Check out our fire pit coffee table which is perfect for playing games on top off and still enjoy the warmth of a fire.
#4: Backyard Camping
Make camping convenient. Pitch a tent and sleep under the stars without leaving the comfort of your backyard (and with better restroom facilities)! Enjoy eating and telling stories around the fire pit without all the smoke and hassle of finding wood.
#5: Relax
There is a calming effect when sitting next to the warmth of a fire pit. Create a family tradition of Sunday night relaxation around the fire pit before the start of the week. Discuss upcoming schedules, read books, finish homework, or just sit and enjoy the time together.
There are so many benefits to adding a fire pit to your outdoor living space. There are also a few things to consider when selecting your fire pit. Before purchasing your fire pit, consider the following.
Things to Consider When Selecting Your Fire Pit
Fuel:

Gas fire pits offer the look of a real fire with less maintenance. They are easy for quick chats by the fire without the hassle of gathering wood and waiting for it to be extinguished. Wood burning fire pits are great if you prefer a more rustic look as well as the sound and smell of a real fire.
Placement:

Fire pits can be portable, transitional, traditional, or contemporary. Determine if you want a portable or traditional fire pit.
Shape:

Similar to living room tables, fire pits come in a variety of shapes and sizes to fit your space and decor perfectly. At Watson's, we offer

round, rectangular, octagonal, and square

fire pit shapes to suit your space.
Style:

Do you want a stand alone fire pit or would you like something a little more functional like a fire pit table? What about upright versus table top? Consider your space and function to select the best style to also suit your wants.
Apart from creating a warm and inviting outdoor atmosphere, fire pits offer some additional benefits and value, including:
Easy Maintenance.

Gas fire pits make it simple to turn your unit on and off quickly, allowing you more opportunity to use it more frequently. Gas fire pits are also easier to maintain as you don't have any ash to clean and only need to change out the propane.
Smokeless warmth.

No one likes getting smoke in their eyes or always smelling of campfire smoke. Gas fire pits offer all the same benefits of a wood-burning fire pit without the smoke and smell.
Added value to your home.

Outdoor fire pits, especially a

fire pit kit, can add value to your home.
Very safe when used responsibly.
From size and material to function and decor, there are a variety of fire pits to fit and enhance your backyard space, regardless of yard size.
Year-round enjoyment.

Fire pits offer year-round enjoyment and warmth. From late summer night s'mores to fall cuddling under the blankets and even winter warm-ups after sledding, fire pits can be used year-round.
Are you ready to create more family fun this fall with a fire pit? Contact us today and talk with one of our experts to select the perfect fire pit for your family and outdoor space.