All good things must come to an end. No matter how your team fared this year, you might be feeling a little disappointed now that the season is over - especially if you've been enjoying the action from the comfort of your own home theater.
But don't let it get you down. There are still plenty of ways that you can enjoy your home theater until preseason kicks off.
Keep the Game Going
If the thrill of the gridiron is still on your mind, you can satisfy your cravings by watching other kinds of sports content. Sure, you won't be able to watch any live games, but there's still plenty of shows to watch if you know where to look.
First, think of sports movies. It's a home theater after all!
If you've got a quality media center or projection screen along with some comfortable furniture, you've got all you need for your next movie night. You can treat yourself to classics like The Longest Yard or The Big Lebowski, or stream your favorite shows like Friday Night Lights or Ted Lasso.
If you're not in the mood for a scripted sports movie, you can download the YouTube App and explore countless hours of footage. From highlight reels and interviews to top-ten lists and video essays, you can find just about anything to get your fix.
And you don't need a subscription to enjoy YouTube content! You can download the YouTube App directly to your TV using most streaming devices so you can start exploring the minute you log in.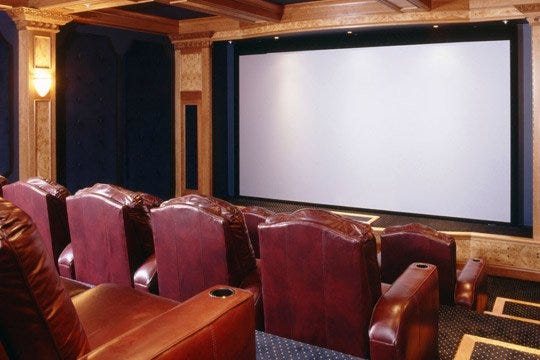 Discover New Favorites
There's also tons of other streaming video content available outside the world of sports. In fact, some would say we're in the middle of another golden age of television.
There's nothing better than chatting with fellow fans about last night's game, but if you want to keep up with all the watercooler talk between now and next season, you might want to catch up on some popular shows like House of the Dragon, The Mandalorian, or Yellowstone.
Or if you're in the mood for something more interactive, consider hooking up a video game system to your home theater. Madden NFL and FIFA have become synonymous with virtual sports, and if you haven't given them a try, there's never been a better time. You can play with friends and family in person or online, giving you the chance to compete against fellow fans with your favorite franchise - even in the offseason.
But maybe you're not concerned with the latest movies, streaming shows, or video games. Maybe you just want to optimize your space for next season.
If you don't plan on using your home theater very often now that the season has ended, you can use the time to upgrade your home theater.
Do Some Renovations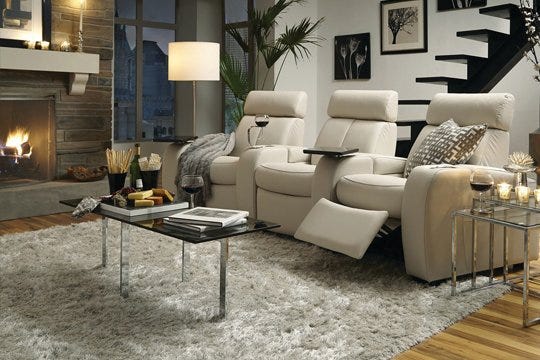 Spring is the perfect time to give your home theater or rec room some attention. First, think about your home theater seating. Is your current sofa or recliner getting the job done? Or do you need a more spacious option?
You could always replace your old furniture with a new model in a similar style, but if you're looking to revitalize your sports den to create the best viewing experience possible, you'll want to invest in some home theater seating.
Unlike a sofa or sectional that's designed to accommodate your body in a variety of positions, home theater seating is made specifically for long screenings like football games. Home theater seats keep you comfortable and supported, so you don't have to move an inch during the big game.
Premium home theater seating comes with easy-to-clean upholstery, storage compartments, built-in cup holders, and power recline technology. Not only does home theater seating feel incredible, but it looks great, too.
A set of leather home theater seats looks dignified and timeless. Just like a quality office chair makes a serious home office, quality home theater seats make a serious home theater. Not to mention, home theater seats work well in almost any space, as long as you have enough room to fit them.
And once you've upgraded your furniture, make sure to outfit your home theater space with everything you need to enjoy the game to the fullest.
Memorabilia and framed posters are essential decor for any sports fan, but don't forget about storage space! You can use accent tables to keep remote controls and electronics organized, but you can even try incorporating a bookshelf into your home theater to store your essentials while displaying your favorite sports memorabilia.
If you're looking to make the most of your home theater in the offseason, Watson's has everything you need.
When you shop with us, you'll find an amazing selection and personalized service, along with the guaranteed lowest prices in the USA. We offer all the home theater and rec room furniture you need to make your space a sports paradise. Shop online or stop by your nearest Watson's location today.