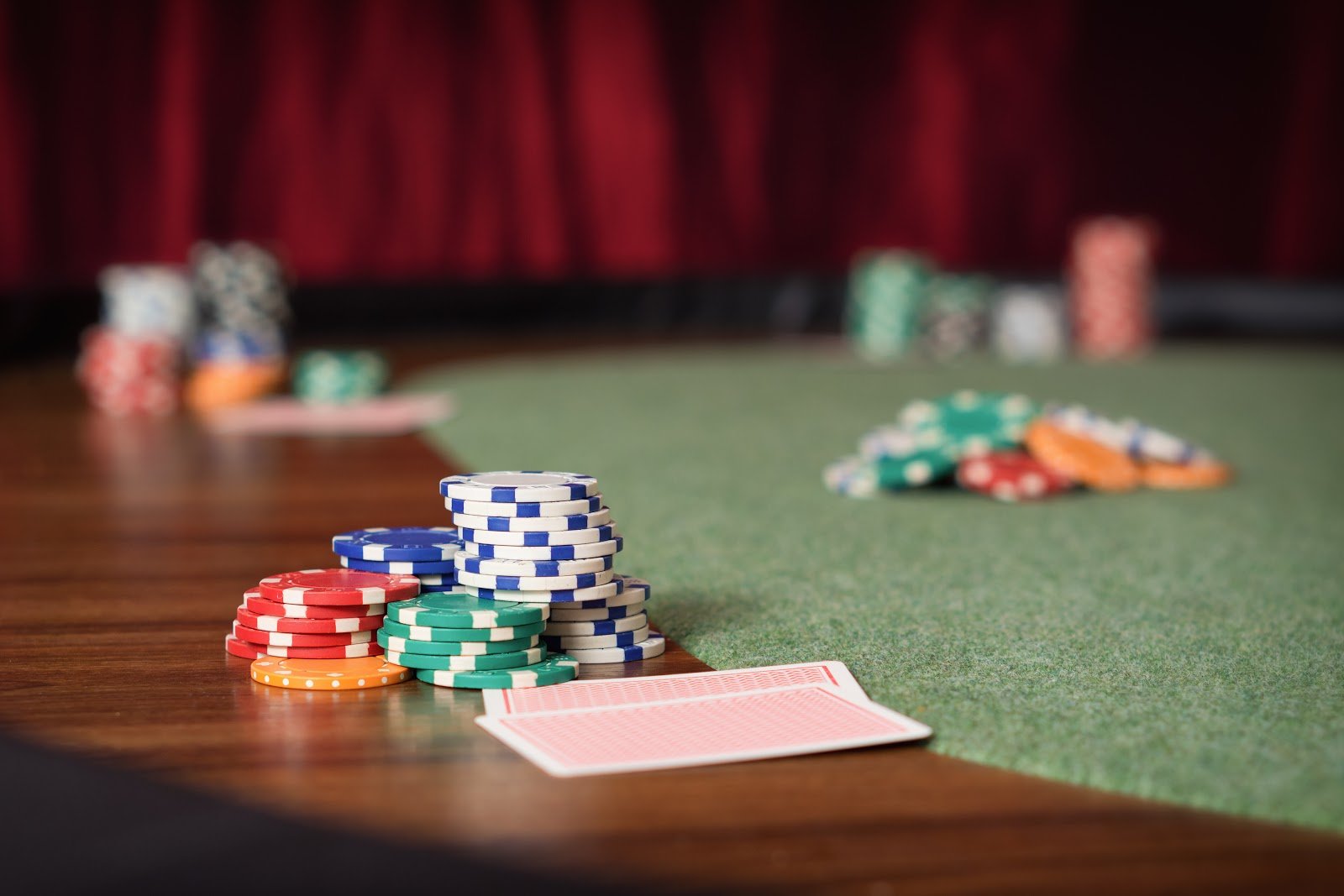 No room for entertainment is complete without a table to play cards. A nice poker table that includes soft felt and cup holders can make your game night experience so much better in the long run. For those who are on the market for a new poker table, it is important to be aware of certain buying concepts before making a purchase.
Poker Table Considerations
Take a moment to consider what you want in a poker table before making a purchase. Expectations, location, size, shape, and price should all be factors in determining the best poker table for your entertainment center. Here are some common characteristics that poker table buyers should be aware of when shopping for their next table.
Felt and Rail
There are different types of felt options depending on the price of each table. For example, lower-end table options may offer the traditional green felt, while more expensive tables include other colors like blue, red, or black felt. These expensive tables may even be available in felt options such as customizable graphics and lettering.
The felt should feel smoothe, and your cards should simply glide across the table effortlessly. Additionally, the felt should be able to stand up to regular usage without creating lint and rough surfaces. Make sure that the vinyl or leather on the table is of high quality.
Shape and Size
Consider how many players you plan to have sitting at your table when you entertain. Will the group be a small size of 6 people? Consider purchasing a circular table for smaller games. For those who wish to seek a larger crowd for poker night, an oval table much like those at a casino might be the better option. These tables often hold up to 9-10 players. Always consider the poker crew and room size before making your poker table selection.
Quality and Build
Table quality will vary depending on a buyer's budget. For those who plan on putting their table away after use, buying a foldable table may be the best option. These tables can be found at an affordable price that won't break the bank , but will still effectively get the job done.
Other considerations in build quality include the woodwork, craftsmanship, LED Lighting, stainless steel cup holders, and high-quality felt. High quality tables that have all of these bells and whistles can run up to thousands of dollars.
How Much Does a Poker Table Cost?
Much like other entertainment equipment, the price of a poker table is flexible enough to fit the needs of both budget and upscale buyers. Fortunately, Watson's has a wide range of poker tables available that fit any entertainer's needs. Let's look at a few tables available at Watson's at various price ranges.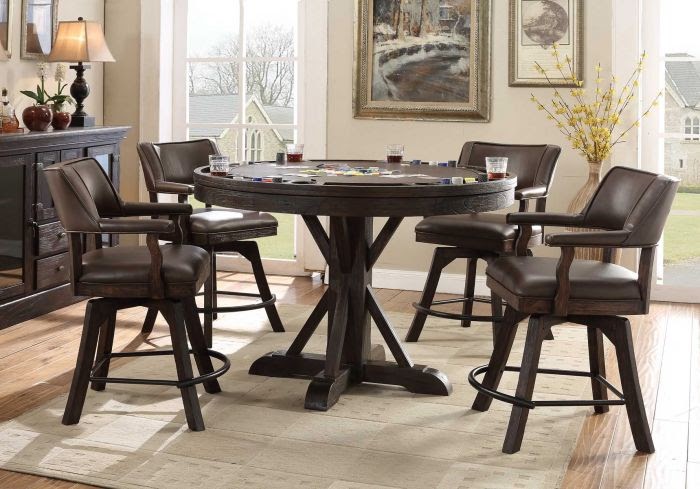 Economy tables are typically found in the $1,000 to $2,500 range. These tables are often built to last in a family environment, which makes them a great purchase for long term use. Each table is built with durable quality perfect for those who are buying a poker table for the first time.
The versatility of the Gettysburg table features a rich, distressed rustic finish that is suitable for virtually any entertainment space. This table features a pedestal base and take-away top, as well as built-in cup and cup holders.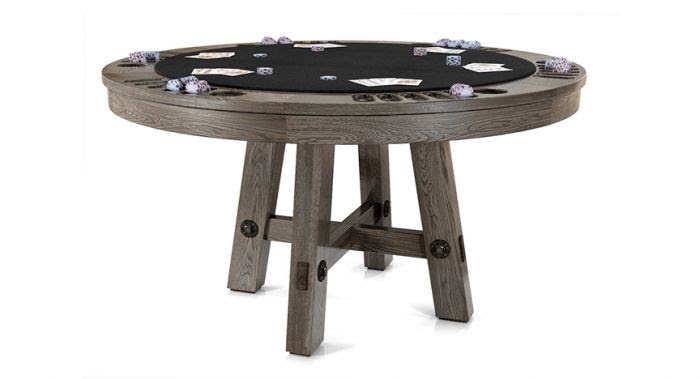 Mid range poker tables typically run in the $3,000 - $5,000 range. These tables are built with durability and design in mind. The felt and wood often comes in different colors and finishes. Additionally, these tables come with chip and cup holders to make the player experience even more convenient.
The 60" Round Pro Loft Game Table features a modern, urban industrial design. The premium solid hardwood makes this game and dining table an all-in-one experience. Simply flip the top to use the versatile table to fit your entertainment needs.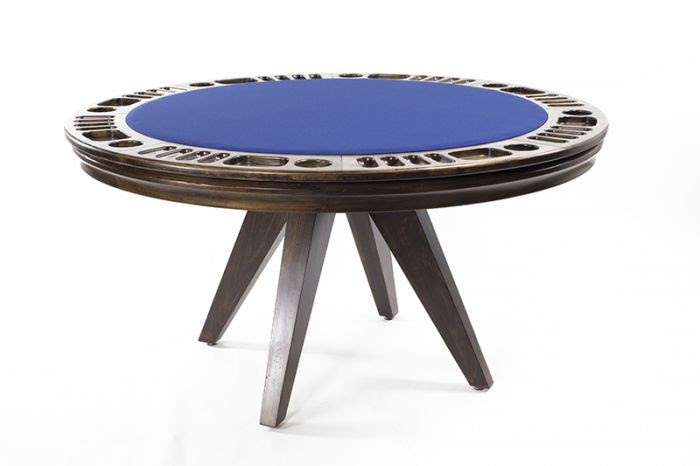 Premium poker tables come with the most important features for those who take their poker night seriously. Premium poker tables are as close to the professional casino table experience as possible. Those who need the best tables on the market should consider a costly table to keep the poker night lasting years after the table is bought.
The Austin Reversible Poker Table features a California House design that includes modern lines ideal for serious entertainment centers. This piece is made from premium solid hardwood and includes a flippable top, turning the game table into a dining table with no effort.
Find the Perfect Poker Table at Watson's
No matter the price range, Watson's has poker tables and chairs ready for purchase to provide the ultimate poker experience. Explore dozens of options to find the perfect poker table for your budget, skill level, and entertainment needs at Watson's!