Have you been on the search for an all-natural sunscreen that's free from pretty much everything? Take a look at Sun Bum! Their products are perfect for all ages, genders, and nationalities. Say goodbye to those wrinkles and getting burnt!
Sun Bum is an excellent option for every individual but especially for the people who have sensitive skin, are vegan, and care about the environment. Sun Bum is hypoallergenic, gluten-free, fragrance-free, and cruelty-free. Since Sun Bum cares so deeply about our environment, you will find that they are reef-friendly. This means that the ingredients in their products are not toxic to coral or any marine life in the coral reef ecosystem.
Tired of wrinkles and want to protect your face from getting burnt? All of Sun Bums' sunscreens are broad-spectrum sunscreen, which means their products protect you against the harmful effects of both UVA (aging rays) and UVB (burning rays). To be categorized as offering broad-spectrum protection, a product needs to absorb or reflect at least 90% of the UV rays. UVA rays penetrate the skin more deeply than UVB rays and are primarily responsible for premature skin aging and wrinkling.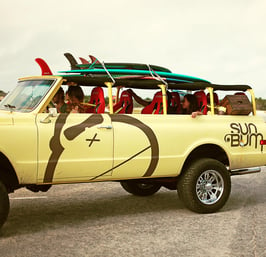 Not only does Sun Bum sell sunscreen, but they also have a hair care and lip care line. Recently Sun Bum dropped their new Zinc-Based Mineral collection for your lounging and earth loving pleasure. Their non-tinted, lightweight and silky Mineral-based Sunscreen Face Lotion glides on like butter and acts as a primer, leaving a matte finish with Broad Spectrum SPF 30 protection.
Were you wondering if Sun Bum was safe for your little one? Don't worry; Sun Bum now has a baby bum line! Their plant-based collection is super gentle and uses the best ingredients for delicate and sensitive skin — no synthetic fragrances, sulfates, parabens, or phthalates. No more worrying about your baby getting burnt in the sun or having an allergic reaction!