With pool season right around the corner, pool owners are ready to have all the fun.
Below are 8 of the brand-new products now available at Watson's, one of the top pool chemical & accessories sites in the world.
We continue to introduce new games, toys and accessories all year long. Shop all pool games, toys and floats here -- all at the guaranteed lowest price in the USA.
RSVP now for the 35 annual Pool School, the biggest savings event of the year.
This lounger offers all-out comfort with tufted design and a super comfy built-in pillow. It also features two handles, so it's easy to carry.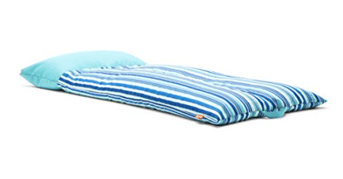 Mahalo, Big Joe! This new float has a tough outside to stand up to fun in the sun and Megahh Bean filling inside to keep you floating in comfort. There's a pillow and carrying handle, too. And bonus: It's extra long at 66".
One of the newest cleaners from Maytronics and brings even more ease and freedom than ever.
It will automatically clean your entire pool for you, from floors to walls to waterline. It connects to WiFi so you can control your robot from anywhere via a simple app. Take pool cleaning to another level with the new Dolphin 60. It was created with groundbreaking technology and incomparable scrubbing so your pool is left clean and healthy without you.
This powerhouse cleaner has a 25% greater suction rate, and it conveniently waits at the edge of the pool for quick and easy removal. This stylish cooler is perfect for keeping food or beverages cool on a hot day. It's easy to keep clean, too, so you can spend as much time as possible kicking back with a cool beverage. The Yogo float offers comfortable, relaxing support with a durable bed and fabric-covered head and footrest. It's easy to carry and rolls into the headrest, just like a yoga mat.
Pretend you're at an all-inclusive resort in the tropics with this floating tiki bar. This inflatable will keep your drinks cool with the tiki bar's ice storage and palm tree umbrella.
Carry all your essentials to your swimming pool or the beach. Then, when you're ready to relax, just unzip your tote and it turns into an upright seated float.
Watson's has the nation's largest selection of swimming pool chemicals, accessories, games and toys -- all at the guaranteed lowest price in the USA. Shop all pool games, toys and floats here.