Finding the right interior design style to match your home can be challenging at first. Here are four popular interior design styles that can hopefully guide you in the right direction.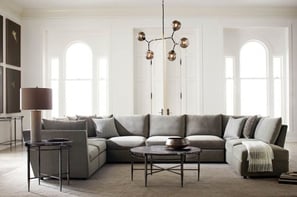 Modern design entails clean, crisp lines and the use of pure colors. The material used is typically glass, metal, or steel. Modern design uses simplicity in every aspect. Everything is clean, organized, and not cluttered. At Watson's, you can find the perfect modern Arctic Cocktail Table. This table is a solid acrylic top with cast wood grain pattern, polished stainless steel base with stretchers, and adjustable glides.
Shop the Arctic Cocktail Table now!
Contemporary design has more free flow and is not looked at as one particular style. The contemporary design might include more patterns and curvy lines. When it comes to the use of colors, neutrals, blacks, and whites are primarily used.
Minimalist design is similar to modern design but taken a step further. The colors used in this design style are simple and airy. When it comes to accessorizing, everything is typically streamlined and facile. People who enjoy the minimalist style often use the saying less is more. This design style is also excellent for making a small space seem larger.
Industrial Design has a more urban look to it. You may see exposed brick, wooden beams, and concrete floors. A lot of the time, the industrial look includes high ceilings, metal fixtures, and functional furniture. A perfect mixture of wood and metal fixtures are included in Watson's Mitchell Console Table paired with three stools. Each piece is perfectly designed to fit your lifestyle and the quality you deserve.