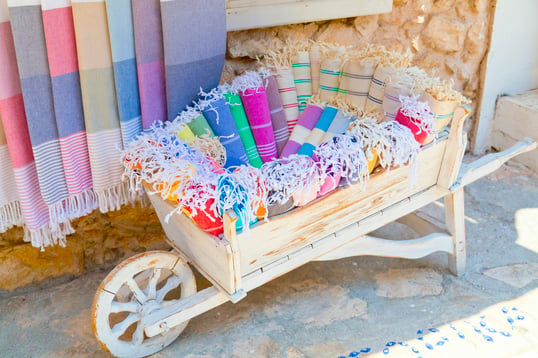 It's official: Turkish towels are the softest, fluffiest and most absorbent towels in the world.
And they get even better each time you wash them.
Shop Turkish towels at the lowest price in the USA, guaranteed.
The secret to a Turkish towel — also known as peshtemal towels — is to look for ones made with pure Turkish cotton. The extra long fibers make it smoother and stronger.
They're lightweight and quick to dry, making them perfect to throw in your bag as you leave the pool or into your carry-on bag when you travel.
The other reason that Turkish towels have been taking over beaches and pools across the world is the versatility.
Women are wrapping it around their waist or torso for a chic summer look, or laying it across their laps on a plane.
Here are 9 creative ways that people are using Turkish towels:
Towel for the bath, beach or pool
Hair towel
Clothing -- sarong or dress
Blanket -- perfect for the end of your bed or the plane
Scarf
Swimsuit cover-up
Throw on a guest bed or couch
Yoga mat towel
Shawl to cover shoulders
Tip: Let it soak in cold water overnight before your first use. This allows the cotton fibers time to expand, making sure it's as absorbent and soft as possible. Wring it out and let it air dry.