Whether you're planning a small get-together or backyard celebration, Watson's offers a variety of grills to accommodate a wide array of cooking styles and grilling experience levels.
Shop all grills now at the lowest price guaranteed.
At Watson's you can find pellet grills, charcoal grills, natural gas grills, propane grills, smokers, and more. Our vast selection of grills accommodates each customer's wants and needs.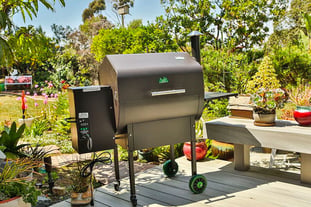 If you are interested in an outdoor oven like appliance with a slow and low cook, our pellet grill could potentially be the best option for you. One of our most popular pellet grills is the Green Mountain Grills Daniel Boone Prime WiFi Pellet Grill. This particular grill has 12V direct power and provides better temperature control, greater pellet fuel economy and faster startups!
Interested in an efficient grill that cooks at a mid-high range cooking temperature? Gas grills might be right up your alley. Gas is a clean burning fuel so the clean up process is little to none after cooking for family and friends.
If you're looking for a grill that provides a rich and smokey flavor, take a browse at our charcoal grills! Charcoal grills supply high amounts of heat which enhances the flavor of the meat you choose to grill. With the Weber Performer Deluxe Charcoal Grill at Watson's, you can control the heat, focus on the process, and reward yourself and guests with amazingly good food.