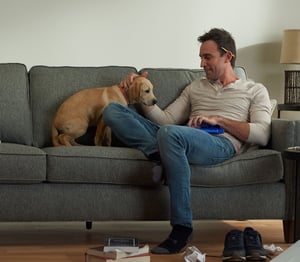 Flexsteel furniture is built to last.
With more than 115 years in business, Flexsteel has built a reputation for high quality quality and durability, thanks to its patented steel spring and frame construction.
It's also the perfect blend of style and function for your home, with a collection of sofas, sectionals, recliners, dining sets and more.
Shop Flexsteel now at the guaranteed lowest price in the USA.
So what makes Flexsteel so durable?
Before you buy a car, you probably pop the lid, take a peek inside and ask a few questions about when it was built or how long it will last.
The same should be true for your furniture.
That's why the center of the Flexsteel brand is its patented Blue Steel Spring.
The Blue Steel Spring was invented in 1910 by Swiss engineer E.W. Schlappritzi. It was first used by the Swiss Railway to make its train car seating last longer.
The strength and resilience of the Blue Steel Spring creates a "just right" balance of softness and support as well as enduring construction.
They are made right here in the U.S. in a plant in Dubuque, Iowa.
When paired with a high-density hardwood frame, this superior technology gives Flexsteel couches and chairs a nearly indestructible foundation that lasts a lifetime.
Flexsteel offers a lifetime limited warranty on the internal structures, including the springs, wood frames and seat cushion frame.
Shop Flexsteel now at the guaranteed lowest price in the USA.