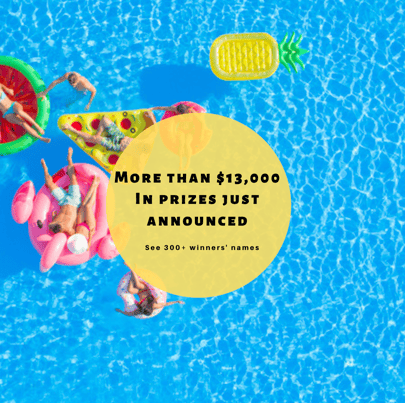 Our Pool School sale kicked off Monday — and we just drew the names of 300+ winners as a thank you!
Together, they'll win more than $13,000 in free products and gift cards!
The prizes are to celebrate the 34th annual Pool School and the first one ever held exclusively on Watsons.com.
Shop now: The nation's largest chemical & accessory sale is exclusively online at Watsons.com and ends Friday, April 24.
Enter to win: There are 5 ways you can enter for a chance to win
Did you win? Congratulations! We will begin fulfilling prizes the week of April 27. We expect to ship prizes by the end of April to the customer address on file at the time of registration or purchase.
You do not need to take any action. If you do not receive your prize via mail or e-mail by Friday, May 8, please email marketing@watsons.com.
MONDAY'S WINNERS (alphabetical by first name)
Aaron Cydrus — Watson's Gift Card - $100
Alex Hunter — Hatchimals
Alice Mullen — Full Face Snorkeling Mask
Alyssa West Eubanks — Algae Free Kit
Amber & Brian Kincaid — 7 in 1 Test
Amber York — Sprinkled Donut Float
Amy Leicht — Key Chain Float
Amy Riffle — Goggles
Andrea Carlock — Giant Flamingo with Shades Inflatable Pool Float
Angie Kuper — Monaco lounges
Angie Kuper — Goggles
Angie Rickner — Watson's Gift Card - $25
Anissa Newkirk — Thermo Duck
Ann/Terry Nobis — Millennium falcon float
Annette Ellis — Watson's Gift Card - $25
April Robinson — Goggles
Ashley Tuley — Watson's Gift Card - $25
Autumn Brewer — Smiley Poop Pool Float
Barbara Basso — Key Chain Float
Barbara Hurtt — Goggles
Bennie Mathews — Key Chain Float
Betsy Toedebusch — Watson's Gift Card - $50
Blaire Hawkins — Key Chain Float
Bob Threm — Millennium falcon float
Brenda Baker — Watson's Gift Card - $100
Brenda Neawedde — Millennium falcon float
Brent Howard — unicorn float
Brian Timming — Watson's Gift Card - $50
Carol Burke — Aruba Inflatable Lounge Chair
Carroll Raymer — Key Chain Float
Cathy Moore — thermo duck
Cedar Schneider — Aqua Duo Floating Mattress
Celia Attwell — unicorn float
Chad Woods — Watson's Gift Card - $100
Cheryl Faulkner — Key Chain Float
Cheryl Woolford — Full Face Snorkeling Mask
Chris Anders — Key Chain Float
Chris Grannis — Watson's Gift Card - $50
Chris Krabbe — Aruba Inflatable Lounge Chair
Christie Burkhead — Watson's Gift Card - $25
Christine Stafford — Solar Glo LED Light Up Emoji Pack
Christopher Moenster — Watson's Gift Card - $50
Chuck Zwick — Algae Free Kit
Cristin Kamber — surprise inflatables
Dan Wells — Giant Derby Duck
Dana Temple — Giant Flamingo with Shades Inflatable Pool Float
Danielle Krewson — Indaraptor Pool Float
Danny Dahmm — Goggles
Danny Lewis — surfin stingray
Daphnia Johnson — Giant Derby Duck
Darin/Terri Varble — Digital Thermometer
Darla Grzeskowiak — Giant Flamingo with Shades Inflatable Pool Float
David Altman — Millenium falcon float
David Dahlkamp — Goggles
David Gray — 11" Galaxy Glo
David Grizzell — Aqua Duo Floating Mattress
David Huff — Solar Glo LED Light Up Emoji Pack
David Jacobson — Cool Shades
David Johnson — Algae Free Kit
David Kohler — surprise inflatables
Dawn Harris — water ballon launcher
Deanna Watts — Watson's Gift Card - $100
Debbie Ward — Solar Glo LED Light Up Emoji Pack
Deborah Lohrey — Indaraptor Pool Float
Debra Farris — Watson's Gift Card - $25
Debra Ginn — Watson's Gift Card - $100
Deeanna Washburn — 11" Galaxy Glo
Dennis Welscher — surfin stingray
Dennis Wenz — 11" Galaxy Glo
Derek Lloyd — Hover Shooter
Derrick Otte — Sprinkled Donut Float
Devona Wells — Giant Flamingo with Shades Inflatable Pool Float
Diane Kutzko — Millenium falcon float
Diane Talbot — Solar Glo LED Light Up Emoji Pack
Donna Haskell — Full Face Snorkeling Mask
Donna Klei — Turbine Football & Basketball Combo
Douglas Hendricks — Big Joe Noodle Sling
Dusti Burrows — Giant Bald Eagle Inflatable
Dustin Sharpe — Solar Glo LED Light Up Emoji Pack
Dusty Standiford — Solar Glo LED Light Up Emoji Pack
Eduardo Sandoval — Cool Shades
Edward Mardis — Solar Glo LED Light Up Emoji Pack
Eric Carman — Aruba Inflatable Lounge Chair
Eric Moore — Turbine Football & Basketball Combo
Erin Allen — Hover Shooter
Erin Tinnell — Solar Glo LED Light Up Emoji Pack
Gary Janowski — Key Chain Float
Gelena Ballard — Giant Derby Duck
Geneva Ricks — Watson's Gift Card - $100
Genifer Tingle — Digital Thermometer
Georgia Gonzalez — Key Chain Float
Geri Blanton — Yeti Colster
Glen Mason — Hippo Pool Petz
Glen\Sheila Cooper — Turbine Football & Basketball Combo
Glenn Kays — Watson's Gift Card - $25
Glenn/Peggy Bogadi — Key Chain Float
Greg Fisher — Giant Flamingo with Shades Inflatable Pool Float
Grover Williams — 11" Galaxy Glo
Harley Haas — Watson's Gift Card - $25
Heather Davis — Solar Glo LED Light Up Emoji Pack
Henry Czarniak — Turbine Football & Basketball Combo
Holli Schultz — 11" Galaxy Glo
Jackie Barrett Combs — Watson's Gift Card - $25
Jackie Brumitt — Solar Glo LED Light Up Emoji Pack
Jaclyn Logan — Solar Glo LED Light Up Emoji Pack
Jacob Seafort — 11" Galaxy Glo
James Caldwell — 11" Galaxy Glo
James Corrado — Giant Flamingo with Shades Inflatable Pool Float
James Davis — 11" Galaxy Glo
James Gillson — Goggles
James Keown — Goggles
Jamie White — Solar Glo LED Light Up Emoji Pack
Jane Lewis — Watson's Gift Card - $100
Janice Barnett — Pineapple lanterns
Janine Hartmann — thermo duck
Jason Benningfield — Key Chain Float
Jason Hawkins — Deck Storage Box
Jeanette/Henry Kemper — Solar Glo LED Light Up Emoji Pack
Jeff Gindling — Key Chain Float
Jeff Holland — Watson's Gift Card - $25
Jeff Nolasco — Watson's Gift Card - $25
Jeff Rosenlieb — Solar Glo LED Light Up Emoji Pack
Jeff Theiss — 11" Galaxy Glo
Jenn Seubert — Watson's Gift Card - $100
Jennifer Baareman — Aruba Inflatable Lounge Chair
Jennifer Endres — Solar Glo LED Light Up Emoji Pack
Jennifer Feichtner — 11" Galaxy Glo
Jennifer Hurst — Marvel Comic Book Inflatable Pool Float
Jennifer Kessler — Key Chain Float
Jennifer Smith — Key Chain Float
Jenny Elliott — Turbine Football & Basketball Combo
Jeremy Pilot — Algae Free Kit
Jerry Hines — surprise inflatables
Jill Dulgeroff — Aqua Duo Floating Mattress
Jill Middleton — surprise inflatables
Joanne Thomas — Flipper Dipper Dolphin
Joe Keller — Huggables Float (various animals)
Joel Langeland — Big Joe Noodle Sling
John Burns — Giant Bald Eagle Inflatable
John Hardin — Watson's Gift Card - $50
John Nicol — Watson's Gift Card - $25
John North — Smiley Poop Pool Float
John Petty — Cool Shades
John Phillips — Watson's Gift Card - $25
John Viox — Watermelon beach blanket
John Wolfinger — 11" Galaxy Glo
Joseph Oakes — Key Chain Float
Juanita Haas — Indaraptor Pool Float
Judy Burnside — Watson's Gift Card - $25
Julie Drew — 11" Galaxy Glo
Julie Werner — Watson's Gift Card - $25
Kara Carter — hatchimals
Karla Williams — Aqua Duo Floating Mattress
Karol Lane — Solar Glo LED Light Up Emoji Pack
Katherine Curry — 11" Galaxy Glo
Kathleen Snelson — Key Chain Float
Kathryn Knight — Aqua Duo Floating Mattress
Kathy Mcdonald — Aqua Duo Floating Mattress
Kathy Stapleton — Watson's Gift Card - $100
Katie Estes — Giant Derby Duck
Kelly Moore — Full Face Snorkeling Mask
Keri Breuer — Watson's Gift Card - $50
Kerry Cash — Giant Flamingo with Shades Inflatable Pool Float
Kevin Ludwig — Full Face Snorkeling Mask
Kevin Odonnell — Giant Flamingo with Shades Inflatable Pool Float
Kevin Odonnell — Smiley Poop Pool Float
Kimberly Lisi George — Watson's Gift Card - $100
Kristin Theis — Flipper Dipper Dolphin
Lee Bush — Millennium falcon float
Leslie Bartles — 11" Galaxy Glo
Lester Long — Aruba Inflatable Lounge Chair
Lisa Mcbride — Goggles
Lolita Jog — Solar Glo LED Light Up Emoji Pack
Lori Bishop — Giant Derby Duck
Lori Ferryman — Big Joe Noodle Sling
Louie Taylor — Watson's Gift Card - $25
Lynn Ware — 7 in 1 Test
Malik Shakir — 11" Galaxy Glo
Marilyn Abbott — Algae Free Kit
Mark Bosworth — Watson's Gift Card - $25
Mark Poirot — Solar Glo LED Light Up Emoji Pack
Mark Robins — Watson's Gift Card - $25
Marlene & Tony Vaccariello — Watson's Gift Card - $50
Mary & Kerry Hammann — Giant Flamingo with Shades Inflatable Pool Float
Mary Dennison — Giant Flamingo with Shades Inflatable Pool Float
Mary Jackson — Watson's Gift Card - $25
Mary Van Meter — Aqua Duo Floating Mattress
Matt Esmail — Watson's Gift Card - $100
Matt Koehne — Big Joe Noodle Sling
Mehan Meraon — Key Chain Float
Melissa Collins — Aruba Inflatable Lounge Chair
Melissa Denning — Key Chain Float
Melissa Kelly — Aruba Inflatable Lounge Chair
Melvin Kohl — Aqua Duo Floating Mattress
Mendy Forness Kell — Watson's Gift Card - $50
Michael Do — Big Joe Noodle Sling
Michele Mclean — Watson's Gift Card - $50
Michele Miller — Watson's Gift Card - $25
Michelle Davis — Aruba Inflatable Lounge Chair
Michelle Deck — Rose float
Michelle Holmes — turkish toweL
Michelle Jones — Watson's Gift Card - $50
Michelle Martin — 11" Galaxy Glo
Mike Kelsch — Watson's Gift Card - $25
Mike Wright — Giant Flamingo with Shades Inflatable Pool Float
Natalie Aide — Watson's Gift Card - $25
Nick Yaeger — Deck Storage Box
Nicole Kalso Grinwis — Watson's Gift Card - $25
Nicole Smith — Aqua Duo Floating Mattress
Pam Reinert — 7 in 1 Test
Patricia Russell Hardesty — Flipper Dipper Dolphin
Patrick Veneman — Aqua Duo Floating Mattress
Patrick Veneman — Aruba Inflatable Lounge Chair
Patty Brown — Aqua Duo Floating Mattress
Patty Hopkins — Giant Flamingo with Shades Inflatable Pool Float
Paul Bier — Aqua Duo Floating Mattress
Paul Duebel — Turbine Football & Basketball Combo
Paul Valentine — Giant Bald Eagle Inflatable
Paul West — Key Chain Float
Peggy Miller — Aqua Duo Floating Mattress
Perry Nelson — Huggables Float (various animals)
Philip Webb — Giant Bald Eagle Inflatable
Pj Metcalf — Watson's Gift Card - $25
Ralph Hockaday — Aqua Duo Floating Mattress
Rob Tippenhauer — Rose float
Rob Vachon — Aqua Duo Floating Mattress
Rob Wilson — Solar Glo LED Light Up Emoji Pack
Robert Cypers — 7 in 1 Test
Robert Lisle — Aqua Duo Floating Mattress
Robert Marsman — hatchimals
Robert Marsman — Watson's Gift Card - $25
Robert/Shannon Lachtrupp — Turbine Football & Basketball Combo
Ronnell Stirsman — Aruba Inflatable Lounge Chair
Ross Kramer — Watson's Gift Card - $25
Ruth Roberson — Solar Glo LED Light Up Emoji Pack
Ryan Farrar — Thermo Duck
Scott Kettler — Millennium falcon float
Serrina Dickens — Indaraptor Pool Float
Shana Norman — Big Joe Noodle Sling
Shannon Laybourne-ross — Watson's Gift Card - $25
Shaun Shanklin — Giant Derby Duck
Shawn Addington — Turbine Football & Basketball Combo
Shawna Snelling — Sprinkled Donut Float
Sherra Springer — Solar Glo LED Light Up Emoji Pack
Sherri Sallee — Key Chain Float
Sherry Reynolds — Watson's Gift Card - $25
Sonja Barker — 11" Galaxy Glo
Sonja Weckman — Millennium falcon float
Staci Jaworski — Pineapple lanterns
Stacy Wiederhold — Aqua Duo Floating Mattress
Stacy Willis — Turbine Football & Basketball Combo
Stefany Davies — Hover Shooter
Stephanie Gricius — Watson's Gift Card - $100
Stephanie Key — Marvel Comic Book Inflatable Pool Float
Stephanie Raymer — Watson's Gift Card - $50
Steve Koewler — Watson's Gift Card - $25
Steve Parrish — Key Chain Float
Steven Dupske — water ballon launcher
Sue Wolf — Watson's Gift Card - $100
Susan Aubrey — Key Chain Float
Susan Caudill — Watson's Gift Card - $100
Susan Cunningham — Watson's Gift Card - $25
Susan Townsend — Solar Glo LED Light Up Emoji Pack
Suzanne Bowman — Giant Flamingo with Shades Inflatable Pool Float
Tamara Gilvin — Sprinkled Donut Float
Tami Nance — Giant Bald Eagle Inflatable
Tami Patterson — Watson's Gift Card - $25
Tammy Hadley — Solar Glo LED Light Up Emoji Pack
Tammy Perkins — Solar Glo LED Light Up Emoji Pack
Tanya Ross — Solar Glo LED Light Up Emoji Pack
Tara Durall — Hibiscus float
Tara Powers — Hover Shooter
Teresa Henson — 11" Galaxy Glo
Teresa Jacques — Cool Shades
Terri Gilmore — Hover Shooter
Tiffanni Keown — Giant Flamingo with Shades Inflatable Pool Float
Tiffany Hammond — Solar Glo LED Light Up Emoji Pack
Tiffany Hawkins — Huggables Float (various animals)
Tim Baker — Monaco lounges
Tim Johnson — 11" Galaxy Glo
Tim Malamphy — Aqua Duo Floating Mattress
Tim Mccarty — Goggles
Timothy Caudill — Hatchimals
Tina Griffith — Solar Glo LED Light Up Emoji Pack
Todd Buchanan — Watson's Gift Card - $25
Todd Severt — Key Chain Float
Tom Barker — Watson's Gift Card - $25
Tom Dziech — Aqua Duo Floating Mattress
Tonya Lane Silbersack — Watson's Gift Card - $25
Tonya Nienaber — Watson's Gift Card - $25
Traci Goble — 11" Galaxy Glo
Traci Goble — Turbine Football & Basketball Combo
Tracy Benson — Watson's Gift Card - $100
Tracy Gagel — Watson's Gift Card - $25
Tracy Hurd — Hibiscus Float
Tricia Fellers — Giant Bald Eagle Inflatable
Water Booker — Solar Glo LED Light Up Emoji Pack
Wendell Mifflin — Sprinkled Donut Float
Whitney Thomas — Millenium Falcon Float