Pool season is right around the corner — and pool owners everywhere are already ready to have all the fun.
Big Joe pool floats and its line of Pool Petz continue to be a fan favorite. We've still got Disney and Star Wars fans covered, too.
With more models than ever, the Dolphin automatic pool cleaner will be in high demand again this year.
Below, we've rounded up 7 of the most popular items that pool owners are already buying in 2021.
Watson's has everything you need for your pool — from chemicals, cleaners and thermometers to toys, floats and goggles. Shop all pool games, toys and floats here — all at the guaranteed lowest price in the USA.
RSVP now for the 35 annual Pool School, the biggest savings event of the year.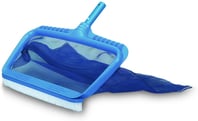 This is the perfect tool for cleaning larger debris from the bottom of your pool. It has a built-in brush to clean your pool floor and wall, too. It easily attaches to any standard pool pole.

Make checking the temperature a little more fun with these cute animal diver thermometers.
PHOSfree Max is a powerful and reliable phosphate remover that's easy to use. It removes high levels of problem-causing phosphates, which means less time and effort spent to maintain perfect water. Aqua Smarte Plus takes pool care and makes it carefree. It is the ultimate delivery of no mess, no guess and no stress water care for swimming pools up to 25,000 gallons.
The Aqua Smarte Plus spring start-up kit has everything you need to get your pool up and running.
See why pool owners love the Squa Smarte system. If you already have the Aqua Smarte system or just want to stock up on MizerMax packs when you purchase it, the MizerMax is available on its own or in bundles of 6 or 12. Ditch the old pool noodle and get this noodle and float in one. The Big Joe noodle sling is a customer favorite and available in a variety of playful colors.
The Super Soft Deluxe Saddle is made from soft, vinyl coated foam. It comfortable supports all sizes, and it's easy to clean and disinfect.
Watson's has the largest selection in the nation of everything you need for your pool — all at the guaranteed lowest price in the USA. Shop all pool games, toys and floats here.