Football is in full force, baseball is winding down, and hockey and basketball are just beginning. What does this mean? Cozy game days with friends and family!
As the weather cools down, heat up your game days with the help of Watson's furniture and accessories!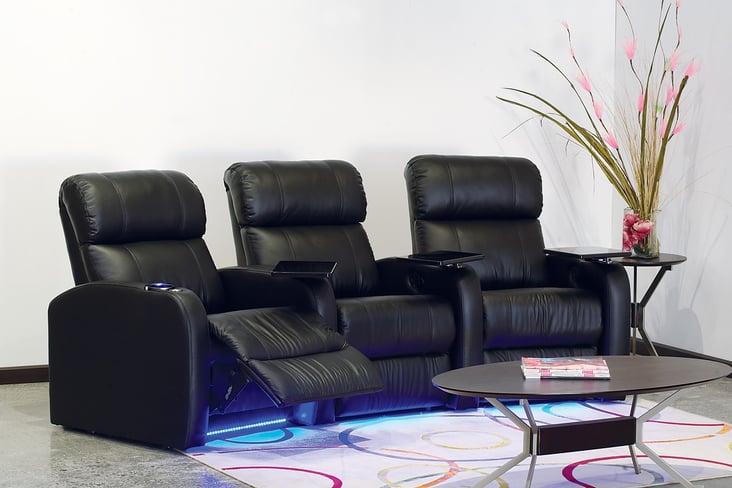 We've put together a game day checklist to make the most out of your game days at home!
The Perfect Seating
No one wants to stand for the whole game! Make sure you have ample seating for family and guests.
Of course, you probably don't want an excess of seats that are only used once a week, so consider adding other functional furniture to your game day room like ottomans, benches, and even floor pillows for the kids.
Sectionals for larger rooms and sofas for smaller spaces work great for everyday and game-day seating. Performance fabric or leather are great options, especially for the clean-up of spills from those exciting plays!
Ottomans are great as they can be used as seats, footrests, or as a table for appetizers and drinks!
Benches are great for under windows and are easy to move. Consider a bench that can be used in different parts of your home, such as your front door or mudroom, a bench for your dining room table, or one even at the end of your bed. Easily move them from one room to the next and add some pillows for extra seating for special events like game days!
Want to take your game day to the next level of comfort? Consider theatre seating for your game day room, whether it be your living room or a rec room. Theatre style seating, as well as motion furniture, are great additions to any room that provides convenience and comfort. If you and your family are avid game day enthusiasts, theatre seating is a must-have!
Do you have a rec room where you watch your games? Another consideration for seating is a pub table set or theater bar. Place behind a sectional or sofa for stadium-like seating or add a bar to the back of the room for drinks and an appetizer station.
Tip: Kids don't usually sit still for the duration of games and have more fun moving around. Consider large floor pillows, bean bags, and other functional kids-style furniture that can be used in their rooms or playrooms and easily moved to your game-watching room.
Simple Serving
No one wants to be stuck in the kitchen cooking all day during the big game.
Make food simple - both in cooking and serving guests.
The easiest way to keep cooking to a minimum without missing out on your game day favorites is to host a potluck and have every guest bring a dish to share!
If you're not having guests over and spending the game day with the family only, keep it easy by using crockpots and instant cookers for your main dishes and keep sides simple that don't need much preparation or cook time.
Check out these yummy and easy-to-make game day recipes!
Serving your food should be simple as well to enjoy the games. An easy way to keep guests moving through the lines and avoid huddles is to spread out your food. Consider adding or using a sideboard or buffet as a drink station, a bar or countertop for your appetizers, and a larger table for your main dishes. This way, everyone can go to where they need to and it's spread out.
Use accent tables for guests to place plates and drinks of, which can easily be moved around. Nesting accent tables are a great multifunctional option for saving space.
Make sure to keep a trash and recycling bin close by for guests and family to easily dispose of items to avoid spills and stains.
The Full Experience
Consider an upgrade to your home entertainment system to assure you don't miss any big plays or action! It's no fun to watch the big game on a small TV or to not be able to hear from the back of the room with chatter going on.
Make sure your entertainment system (both television and sound system) is appropriate for the size room you're in. A sound bar is a great addition to get quality, surround sound to feel like you're at the game. An HD TV will give you the crisp quality of seeing every play (and foul) up close!
Halftime Game Time
Keep game day filled with fun during half time and commercials with your own games! If you use a rec room or basement for you game day gatherings (or even if you don't and have the space), add some games to fill the time and make memories!
Watson's carries everything from shuffleboards, pool tables, ping pong, and air hockey, to nostalgic arcade games and more. Whether pre-game, half time, or post-game, adding a game or two not only brings people together, but also creates a lot more fun on game days.
Die Hard Decor
For the true fans, consider your game room decor! If you have a dedicated rec or game room for your game day festivities, create a cohesive space with your decor. Use shadow boxes to display jerseys, tickets, and other memorabilia. Choose your team colors for pillows, blankets, and even an accent wall color. Add a scoreboard for those halftime table tennis games!
However you enjoy game days, Watson's can help you turn it up a notch and add more function and fun with our variety of furniture, games, and decor. Contact an expert today to learn more about our selections and find the perfect pieces to level up your game day.